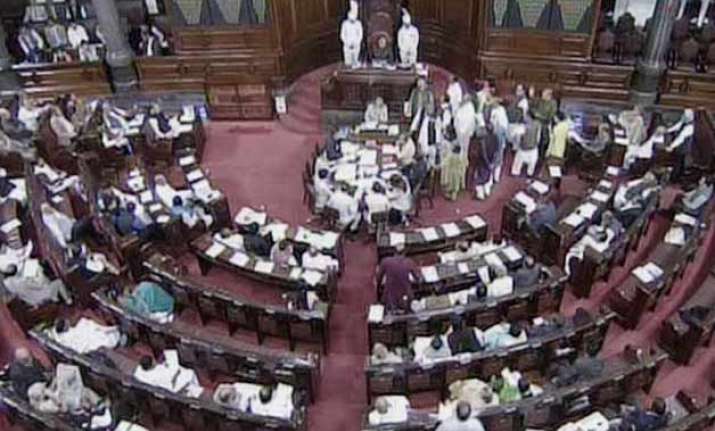 New Delhi: Rajya Sabha members on Thursday said the privileges committee of the house should re-examine its report that the tapping of Finance Minister Arun Jaitley's telephone, when he was leader of opposition, was not a "breach of privilege".
Members also said the scope of study should be expanded to overall phone-tapping, while Congress leader Anand Sharma sought an independent probe into the incidents of phone-tapping overall.
The issue was raised by Samajwadi Party leader Naresh Agarwal.
"The committee said tapping of Arun Jaitley's phone is not a breach of privilege. If it is so, any government can tap our phones," Agarwal said.
He was joined by Congress leader Anand Sharma, who said phones of many prominent people are being tapped.
"This house, even before the matter went to privileges committee, entire opposition had questioned who is giving authorisation for tapping... Not just here, many are complaining of phone-tapping. We also asked PM who is tapping the phones," said Anand Sharma.
"We cannot allow India to become a state where there is atmosphere of distrust and it becomes a police state... there should be an independent enquiry headed by a Supreme Court judge," he said.
Minister of State for Parliamentary Affairs Mukhtar Abbas Naqvi said it would be good if the privileges committee reviews the report. "It would be better if the committee reviews the report."
Communist Party of India-Marxist (CPI-M) leader Sitaram Yechury said that the committee may "enlarge" its subject from Jaitley's phone-tapping to overall phone-tapping incidents.
Deputy Chairman P.J. Kurien, who heads the privileges committee, said he will see the rules and come back to the house on how to revisit the report.
Former deputy chairman and Congress leader K. Rahman Khan said the scope of subject under consideration of the privileges committee could be expanded as it has been done earlier as well.
"The report is before house. It can discuss or reject. Taking in account suggestions to revisit, I will see how it can be done and come back to the house," said Kurien.
The case of tapping Jaitley's phone came to light in 2013, when Delhi Police constable Arvind Dabas was arrested after he allegedly tried to get access to Jaitley's Call Details Records (CDRs).
The matter was then referred to the privileges committee.
Dabas tried to get the CDRs of Jaitley, now union finance minister, by using the login of an assistant commissioner of police.
A report of the Rajya Sabha privileges committee, presented on Wednesday, said Dabas's act was not a breach of privilege.