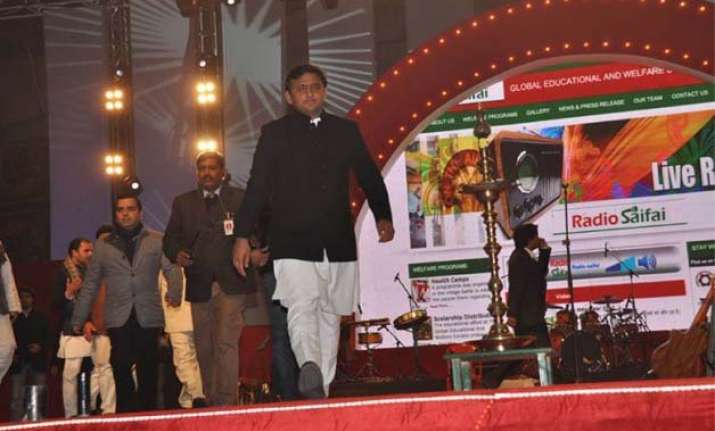 Lucknow: Digital radio - 'Radio Saifai' - launched in the native village of Samajwadi Party supremo Mulayam Singh Yadav has become an instant hit within a week.  
The digital radio, which could be on the lines of Prime Minister Narendra Modi's 'Man ki baat' programme on All India Radio, has already got tremendous response from people with over two lakh hits in less than a week after it was started.  
Chief Minister Akhilesh Yadav is expected to connect with the masses through this medium.
"After its launch in Saifai Mahotsava (Etawah) last week by the Chief Minister, the channel is getting tremendous response from people with over two lakh hits in less than a week's time," SP sympathiser Dharmu Yadav 'Dharmik', who conceptualised 'Radio Saifai', told PTI here today.  
On 'Radio Saifai', where it is expected that Akhilesh will do his "Man ki baat" on lines of Modi, a number of programmes including entertainment would be available for the public, he said.
"The CM has taken keen interest in starting the Radio. We will meet him soon and invite him to use the medium to propagate what his government has been doing," Dharmik said.  
"I am neither an SP worker nor hold any post in the party, but we have been associated with the youth CM, who is doing tremendous work for the state.
"My objective is to convert Radio Saifai as community radio on which we will be doing programmes for youths, their career opportunities and also keep a slot for farmers," he said.
About naming it after Saifai, Dharmik said as he came from a rural background and wanted to work for rural folk, he chose the name as it was famous and known for the development work done there.
Asked as to what impact 'Radio Saifai' was expected to make, Dharmik said over 15 lakh free laptops were distributed by the state government and internet connectivity is not a problem for those want to listen to it online.  
"We are getting calls from other radio stations that are aware of the tremendous response we are getting.
After launching it, we will work on style of programming and enhance our team. We will spread more knowledge on radio and will appoint a station head for the same", he said.  
A mobile app for the digital radio has also been launched and those interested can download it to listen to it, he added.