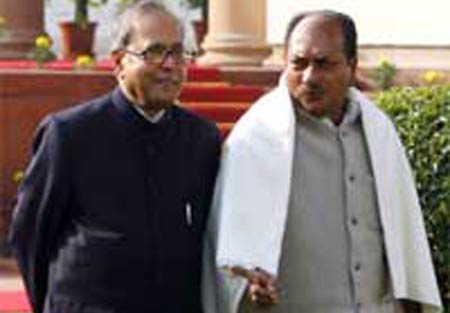 New Delhi, Nov 9 (PTI) Finance Minister Pranab Mukherjee and Defence Minister A K Antony are expected to consult Congress chief Sonia Gandhi before leaving for Mumbai to elect a new CLP leader following the resignation of Maharashtra Chief Minister Ashok Chavan.
A meeting to decide the party's strategy during the current Lok Sabha session has been convened by Gandhi this evening and the two leaders are expected to discuss the issue of a new CLP leader with her.
Ahead of the meeting, Prime Minister Manmohan Singh said that the government was willing to discuss all issues with the opposition parties and hoped that the Winter Session of Parliament will be peaceful and productive.
The meeting comes in the wake of Opposition parties raising the scams in Adarsh Housing Society, Commonwealth Games and 2G spectrum on the first day of the winter session.
Mukherjee and Antony will be present at the Congress Legislature Party meeting in Mumbai tonight as central observers.Speaking to reporters here, Mukherjee indicated that Chavan's resignation was accepted on the basis of perception.PTI