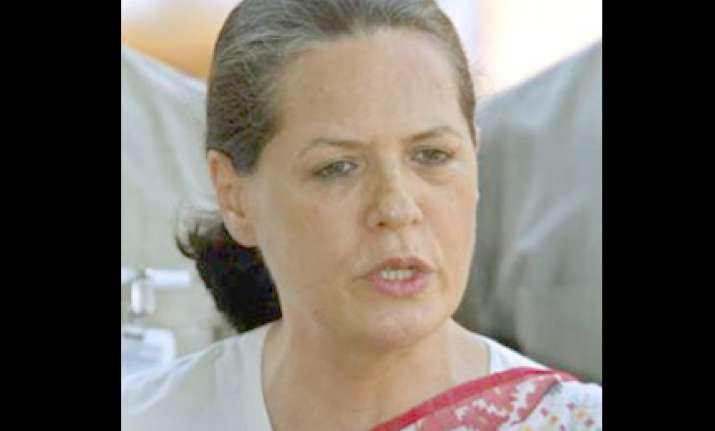 Cautioning the people against voting for an opposition which plays with their emotions, UPA chairperson Sonia Gandhi on Tuesday said that certain political parties were misuing the great warrior Shivaji's name for their selfish political ends. 
Campaigning for the Congress-NCP candidates from North Maharashtra for the October 13 Assembly elections, Gandhi said, "the Opposition is bereft of any programme or policies. They know only to play with your emotions so that they can get some votes. They misuse Shivaji's name for their selfish political ends."
"Be careful about such people and don't trust them. Take a decision in the interest of the country and the state by voting for the Congress-NCP candidates," she said.
Congress has an ideology and tradition of its own for an all inclusive development. "We don't differentiate against people on basis of their language, religion or region," the Congress president said. 
Accusing the Opposition of making false promises, she said, "Congress being the party of masses, seeks votes on its work, policies and achievements."
Poor and deprived sections of the society like Dalits and Adivasis have benefited due to the party. Adivasis have learnt to live with dignity, she said. 
Recalling her late husband Rajiv Gandhi's efforts to ensure reservation for women in local bodies, Sonia said at present there are more than 12 lakh women who are equal partners in power and decision making at the grassroots level.
The UPA Government has now increased reservation from 33 per cent to 50 per cent, she said. 
Referring to the UPA's flagship programme National Rural Employment Guarantee scheme (NREGA), she said unemployed people are getting work in their own villages which will go a long way in eradicating unemployment and checking migration. 
Touching a chord with the locals, the UPA chairperson said she saluted the holy and historical land of Nashik and thanked them for supporting Congress in the Lok Sabha polls.
"I am before you again because Assembly elections are round the corner and seek your support on the basis of our performance. While adhering to the coalition politics, we have tried to fulfil all your expectations," she said. 
Sonia also reiterated Congress-NCP's promise of providing food grains at Rs 3 per kg up to 25 kg saying that it will go a long way in uplifting below poverty line (BPL) families.
She said the elections were an opportunity to the people to judge the Congress-NCP government by its performance.
"Our people are politically aware and take right decisions at the right time," the Congress chief said.PTI