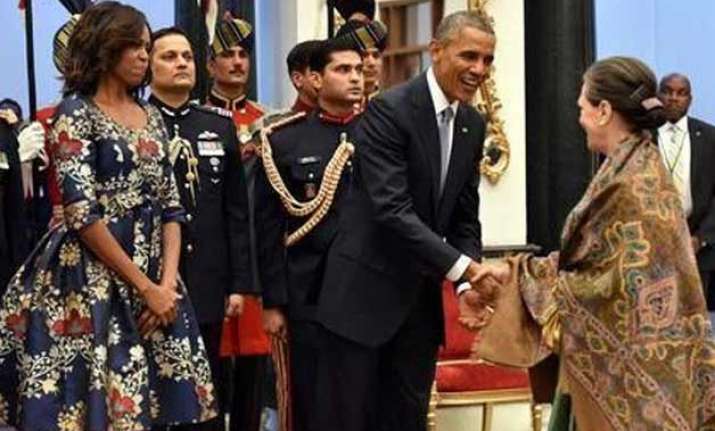 New Delhi: The issue of operationalising the bilateral landmark civil nuclear deal and cooperation in multiple sectors between India and US were understood to have figured as Congress chief Sonia Gandhi and former Prime Minister Manmohan Singh met US President Barrack Obama in New Delhi.
A wide range of strategic affair issues came up for discussion including that of the threat of ISIS in Iraq and Syria and the two sides shared their assessments and concerns during the meeting, sources said.
Congress vice president Rahul Gandhi and former Commerce minister Anand Sharma were also part of Congress delegation that met Obama and his wife Michelle at ITC Maurya Hotel where they are staying.
The former Prime Minister underlined the importance of "inclusive and sustainable growth" for a society like India where larger number of people are still under the margin of subsistence and talked about "human face" of reforms, Sharma said.
Singh also underlined the need for "closer economic partnership" between the two countries.
Sharma said the meeting of the Congress delegation with Obama was "very positive" and the two sides discussed a wide range of issues for cooperation in bilateral, regional and international arena.
He said Obama acknowledged the contribution of the previous UPA government, headed by Singh, in the signing of the Indo-US nuclear deal.
India and the US had yesterday broken the 7-year-old logjam in operationalising their landmark civil nuclear deal besides deciding to jointly produce military hardware including advanced unmanned aerial vehicles (UAVs) during talks between Prime Minister Narendra Modi and President Obama.