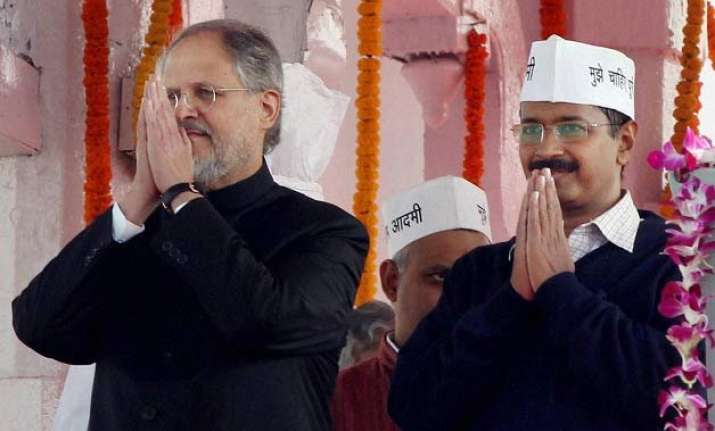 Jammu: Claiming that Chief Minister Arvind Kejriwal and Lt Governor Najeeb Jung were responsible for the "mess" in Delhi, Congress today said both of them have "crossed their limits" and were "not following set rules of governance".
"Governance is a very delicate issue, people don't know who takes the decision as it's a faceless thing. But unfortunately, Jung and Kejriwal who themselves come from a bureaucratic background are not following the set rules of governance and are washing their dirty linen in public," Congress MP P L Punia told reporters here today.  
He said the Lt Governor and the CM have crossed the limits and was not following the set procedure of governance.  "They both are responsible for the mess as both of them have crossed their limits. The role of BJP which rules at the Centre is also not good, BJP has not taken a balanced stand on the issue," he said.
Punia slammed Union Minister for Surface Transport Nitin Gadkari for his remarks against Congress Vice-President Rahul Gandhi and said, "BJP ministers and their MPs are known for making such type of irresponsible statements. Rahul Gandhi is a responsible leader, who has fought for the farmers be it in Bhatta Parsaul (UP) or in Tabal."
Accusing the BJP of disturbing the communal harmony in the country, he said that BJP ministers were making statements which were detrimental to the communal harmony.  
"Their ministers say that voting rights of Muslims in this country must be revoked, they say that every Hindu family must have five children, they are making irresponsible statements," he said.
Replying to a question on the controversy surrounding the issuance of passport to separatist leader Syed Ali Shah Geelani, Punia said that anybody who follows the rules must be immediately given the passport.
"There is a set procedure for the issuance of passport, there is a law and anybody who follows the procedure as per the law must be given passport immediately, but anyone who does not follow the rules and the procedure shall not be given a passport, the rule is clear," he said.
Asked how he would rate the performance of the Narendra Modi government, he said he would term it a "total failure".  "If you ask any corporate house they might give him ten out of ten even more, but for the common man it's a total failure and we give this government zero out of ten, this government is a total U-turn government, which has taken a U-turn on every issue," he said.