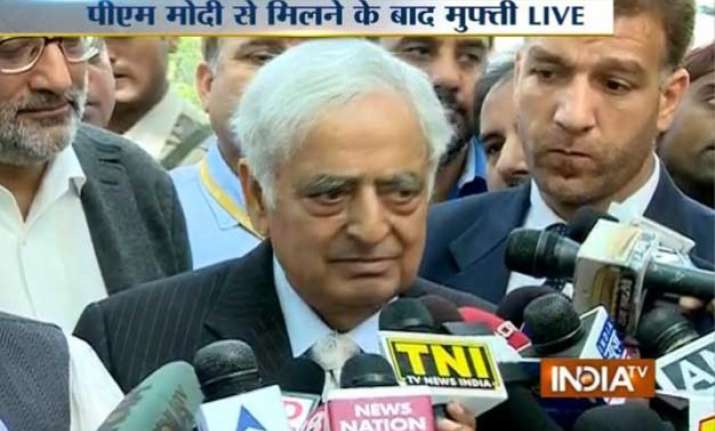 New Delhi: PDP patron Mufti Mohammed Sayeed today met Prime Minister Narendra Modi and said that he will try to create a good atmosphere in Jammu and Kashmir after the formation of PDP-BJP govt in the state.
Mufti met Prime Minister Modi at his official residence.
After coming out of the meeting, Mufti informed the mediapersons that he will be taking oath as J&K Chief Minister on March 1 and that PM Modi will attend his swearing-in ceremony.
"I have invited PM for swearing-in ceremony on 1st of March, he said he will be attending the ceremony," Mufti said.
Mufti, however, said that there was a need to engage Pakistan in the ongoing peace process in the state.
He recalled initiatives taken by the former Prime Minister Atal Bihari Vajpayee in this direction and said that even Modi is interested in taking it forward.
12 ministers of BJP and 13 ministers of PDP are also expected to take the oath on March 1.
The meeting between Sayeed and Modi took place after the Peoples Democratic Party and the Bharatiya Janata Party sorted out their differences over a common minimum programme to guide the functioning of the new government.
Sayeed said he and Modi discussed various issues regarding the state. He refused to divulge the portfolios the two parties were likely to keep.
"All of them will be made public on the day of the swearing in ceremony. There have been issues in Jammu and Kashmir and we have to build up a good government in the state," he said.
A former chief minister of Jammu and Kashmir, Sayeed said the prime minister underlined the need to bring peace in the troubled state. "He has a dream of making it an island of peace," Sayeed said.
The PDP has 28 members in the hung 87-member Jammu and Kashmir assembly. An independent legislator, elected from Zanskar in Ladakh region, has joined the party.
The BJP has 25 members. Two legislators of the People's Conference headed by former militant Sajad Gani Lone have announced support to it.
Jitendra Singh, the minister of state in the Prime Minister's Office, said it was beauty of democracy that two parties with differences of views on some issues had joined hands to provide a stable government.
"There was no better alternative to respect the mandate of the people. That the two parties have agreed to disagree on certain issues is also a big thing," Jitendra Singh told IANS.
He said the two parties will have equal partnership in the government.