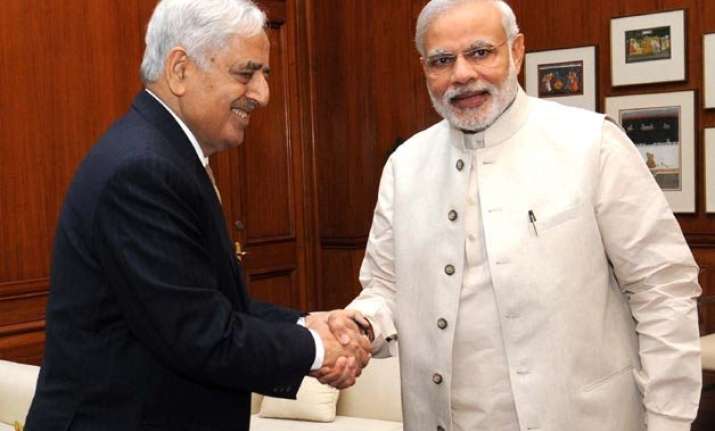 Srinagar: J&K Chief Minister Mufti Mohammad Sayeed today met Prime Minister Narendra Modi to discuss about fast-tracking the development agenda of the PDP-BJP coalition government in the state.
Addressing a party convention here, Sayeed said that the coalition government's 'Agenda of Alliance' remains the binding force that will see a new phase of equitable development in the state.
"I met Prime Minister Narendra Modi in New Delhi and discussed with him several important issues. He has assured me of Centre's help in fast-tracking the development agenda of the coalition government," he said.
Elaborating on his meeting with Modi, Sayeed said the Prime Minister has a vision to speed up inclusive development in the state.
"The new think-tank of NITI Aayog has assured us of our share in the Central funds as per recommendations of the 14th Finance Commission Award. We will use optimal utilisation of these funds and ensure that every penny is spent," he said.
He referred to the kitty of Rs 6,000 crore allocated to Jammu and Kashmir under the centrally-sponsored schemes. Welcoming the new office bearers, Sayeed observed that all issues indicated in the 'Agenda of Alliance' mutually agreed to will be implemented and special focus will be given to return of Uri and Dul Hasti hydel power projects to the state.
Highlighting J&K's unique position as the only Muslim majority state in the country, Sayeed said the people need to safeguard its special status, which is guaranteed by the Constitution of India.
He recalled with satisfaction the farsightedness of the leaders of the state who decided to accede with India.
"Keeping in mind the multicultural ethos of J&K, the decision to go with India has proved to be the right one," he observed.
Drawing the attention of party workers towards holding elections to local-self government institutions, Sayeed said he wants to make people at the grassroot level real partners in state's development.
Referring to the recent death of Zahid in Udhampur truck attack, the leader assured that those responsible for his death will not go unpunished under any circumstance.
He said the Cabinet in one voice condemned the dastardly act and vowed to defeat the nefarious designs of the divisive forces which are out to damage the pluralistic fabric of the state.
The convention was presided over by PDP president Mehbooba Mufti and attended by party ministers, MLAs and office bearers.
However, party's Lok Sabha members from Srinagar and Baramulla -- Tariq Hamid Karra and Muzaffar Hussain Baig respectively -- did not attend the meeting.