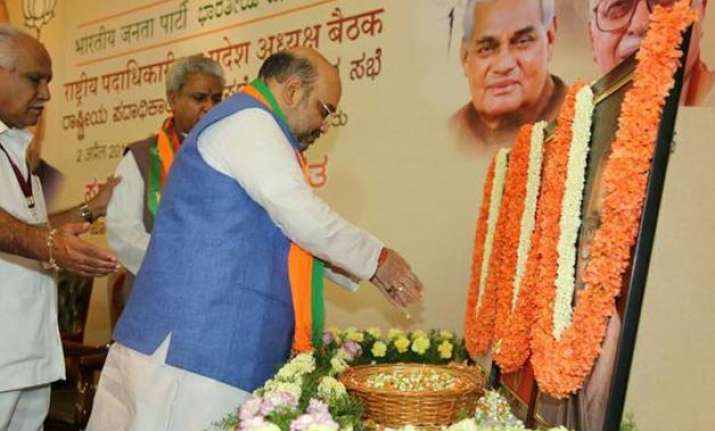 Bengaluru: A day before BJP's two-day national executive meet, Land Bill became the center of discussion on Thursday while the party geared up for its first meeting of the office-bearers.
The party has plans to make the land bill a people's issue and fight the prevailing perception of it being "anti-farmer". For this, there will be a PowerPoint presentation by the BJP leadership to forward its arguments to "expose the opposition's hypocritical stand" on the issue.
Union law minister Sadananda Gowda told the reporters, "After the party's committee, set up by Amit Shah on the land bill, interacted with farmers' organizations in various states and the subsequent amendments incorporated in the legislation, we are convinced that the land bill in its present form is good and should go through."
The entire move will be to ensure that the political stand taken by the party and the government's policies are in sync.
BJP has plans to take the land bill to the ground level. This will also mark the second stage of membership drive of the party – Jan Sampark Abhiyan – through which the party will explain the benefits of the bill to the farmers.
This will be the first time after Modi government's assumption to centre that BJP will get together for a national executive meet.
BJP top brass including Prime Minister Narendra Modi, party chief Amit Shah, Home Minister Rajnath Singh and other members of the parliamentary board will also scrutinize and fine-tune the political-economic and foreign policy resolutions at the meet apart from the land bill.
On the eve of NE, the party leaders put across that if Congress, TMC, JD (U), SP and others, were in agreement to the 2013 law then why did the state governments run by these parties did not work to implement it.
Recently, Congress and TMC have admitted to not to budge and support the ruling government on the land bill. Due to this, the government was forced to re-promulgate the ordinance after it failed to muster enough strength in Rajya Sabha to see the legislation through.
The party's foreign policy resolution is expected to highlight how the Modi government initiated a change in perception - from an atmosphere of negativity to positive impression about the country. The NDA government's initiative of dealing with all nations - from Bhutan and Sri Lanka to Nepal and the US - will be in focus as a new chapter in Indian diplomacy.