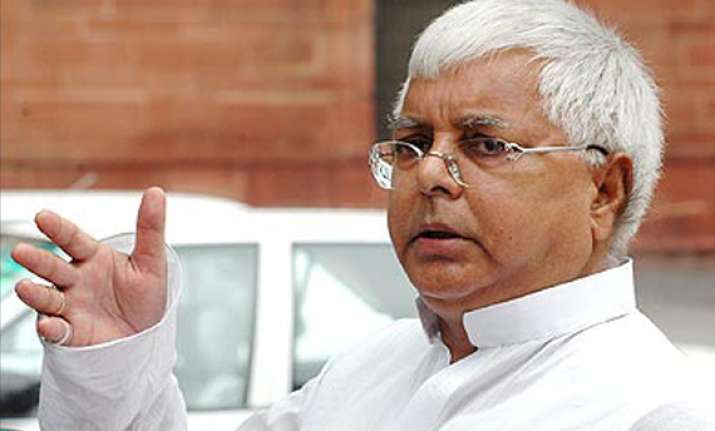 New Delhi, Jun 6: With his party trouncing the JDU in Maharajganj Lok Sabha by-poll, a visibly beaming RJD chief Lalu Prasad Wednesday predicted the fall of Nitish Kumar and said it was "definitely a comeback" for his party in Bihar.
In an interview to NDTV, Prasad described the by-poll as a "test case" and urged people to defeat the JDU in all the 40 Lok Sabha seats in the state to prevent "fascist forces" from occupying Delhi in next general elections.
Slamming the NDA government in the state for poor infrastructure, corruption and law and order, he said that the result in the state is indicative of the national mood and will have a huge impact on national politics.
"All sections of people including the youths were fed up with the rule of Nitish Kumar and BJP in the state. People from all castes have jointly decided to defeat Kumar. The by-poll was a test case and we have got us a great victory.
"This is definitely a comeback for us. His (Kumar's) fall from the grace has begun. Nobody can save him now. Who will save him when all castes have united against him. The result will have a huge impact," Prasad said.
His comments came hours after RJD won Maharajganj Lok Sabha by-poll by a convincing margin of over 1.37 lakh votes.
RJD's Prabhunath Singh polled 3,81,436 votes, while P K Shahi of JD(U) bagged 2,44,324 and Jitendra Swami of Congress trailed far behind with only 33,905 votes.
The by-poll was necessitated by the death of Umashankar Singh, RJD MP and father of Congress candidate Jitendra Swami.
The victory has given boost to Prasad whose party had suffered humiliating defeat in the hands of NDA both in last general election as well as in the assembly elections in the state in 2010.
Amid reports that Narendra Modi could be made the chairman of the BJP's campaign committee, Prasad also asked Kumar to clear his party's stand since the BJP leader has now become the face of his party.
He also dismissed the possibility of Kumar joining hands with UPA in future.