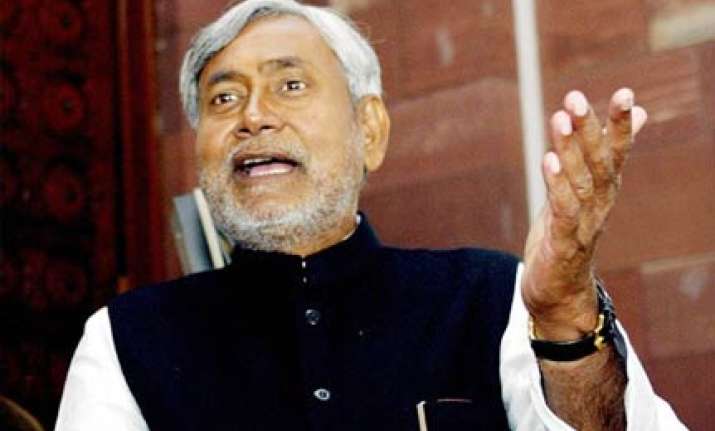 Patna, Oct 18: Pledging to carrying forward development with justice, ruling JD-U in Bihar today promised a slew of measures for minorities and upper caste people in its manifesto with thrust on nearly doubling the state's growth rate of 11.5 per cent.
Jointly releasing the manifesto at a press conference, JD-U national president Sharad Yadav and Chief Minister Nitish Kumar said in the event of coming to power, the party would continue to exert pressure on Centre for according a special state status to Bihar, besides continuing its offensive to weed out corruption.
The manifesto promises a separate independent directorate under the minority welfare department for the schemes and programmes relating to welfare of minorities, besides maintaining pressure on the centre for implementation of the recommendations of the Sachar Committee and Rangnath Mishra Commission for their welfare.
Noting that his party was always committed to ensuring justice to Dalit Muslims, Kumar said JD-U would build pressure on the Centre for raising the limit of reservation from existing 50 per cent for giving benefits of the reservations to Dalit Muslims and Christians by way of bringing suitable amendment to the Constitution.
Besides this, Kumar said a special component plan would also be evolved for the minorities on the pattern of Scheduled Castes and Scheduled Tribes and banks would be asked to provide more facilities and loans for the self-employment of the community.
Kumar said in the event of win, his party would carrying forward the process for setting up Aligarh Muslim University's Bihar branch.
In a bid to woo upper castes, Kumar said his party would work for forming a commission for providing justice to the poor among the upper castes people.
Besides, health, education and other social sectors, thrust would be laid for improving the power generation in Bihar and make sincere efforts for promoting tourism, increasing additional irrigation facilities, doubling agricultural production, introducing state food security mission for making available PDS facilities to cover all those 1.5 crore BPL households living below poverty line.
Kumar accused Congress-led UPA government of having blocked several proposals for investment worth around Rs 1.60 lakh crore in power and ethanol sectors and said on staging a comeback, the next government would mount pressure on the Centre for removing the restrictions on manufacturing ethanol through sugar cane juice and provision of coal linkages.
"It is unfortunate that the Centre has failed to discharge its responsibilities in arranging coal linkages for the proposed thermal power plants in Bihar," he alleged.
He said, "We will try to get the coal linkages from the Centre at all costs." PTI