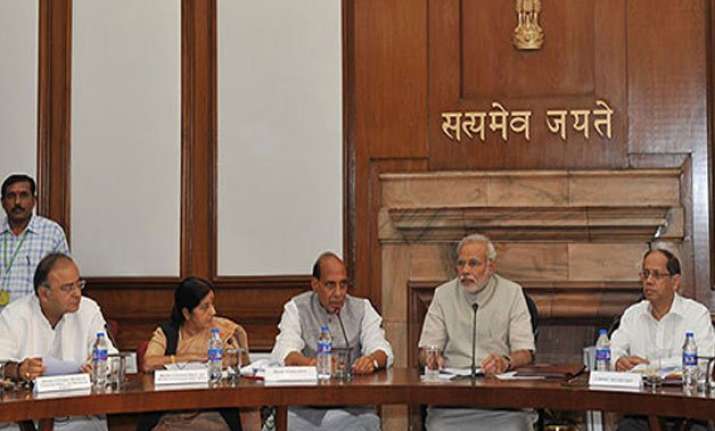 New Delhi: Prime Minister Narendra Modi led NDA-government is topping the charts when it comes to passing ordinances by a party in power. In the last 225 days of its tenure, the saffron party has issued eight ordinances which means on an average one ordinance every 28 days or let's say in a month.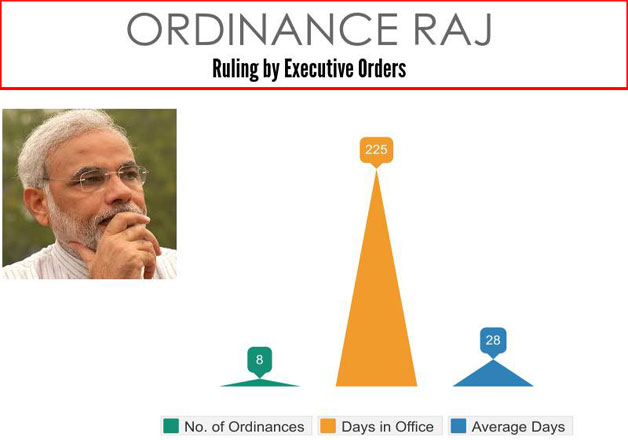 The number is very similar to that of late Indira Gandhi's rule who issued a maximum of 208 ordinances during her term of 16 years (which is equal to 5825 days). On an average, she also issued one ordinance every 28 days which is a striking similarity with Modi Government.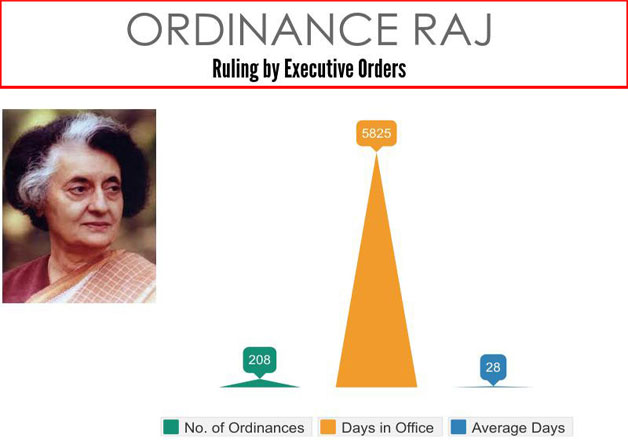 Whether good or bad, but it seems Modi is following late Indira Gandhi's "governance through ordinance" model. However, unlike Modi government, the earlier Congress regimes including that of Indira Gandhi, had majority in Rajya Sabha.
Even India's first Prime Minister Jawahar Lal Nehru has also worked his way out through ordinances; an easy way out incase of opposition. In his tenure of 17 years, (which is equal to 6126 days), he issued 200 ordinances, hence standing second to his daughter Indira. His average was one ordinance every 31 days, not much different from both Indira and Modi.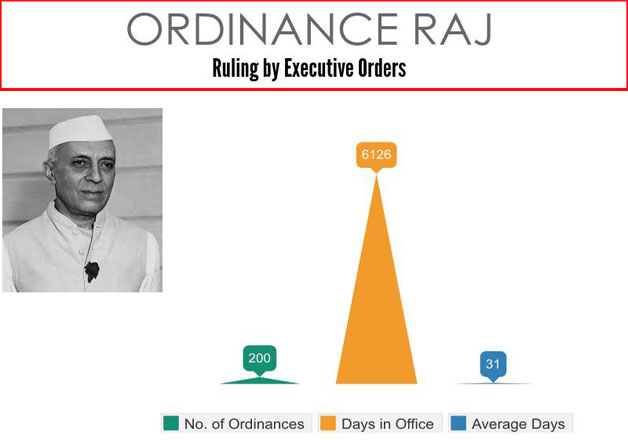 The second runner-up in this list of ordinance-issuers was also from Congress only. PV Narsimha Rao, who issued 108 ordinances in his tenure of around 5 years (1790 days).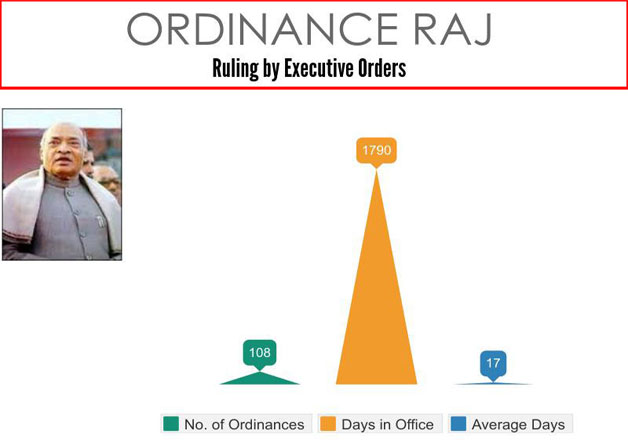 Surprisingly, even the fourth place was also bagged by Congress only with the last Congress leader in leadership, Manmohan Singh having passed a decent 61 ordinances in almost every 2 months. He was in leadership for 3654 days and issued an average of one ordinance every 60 days.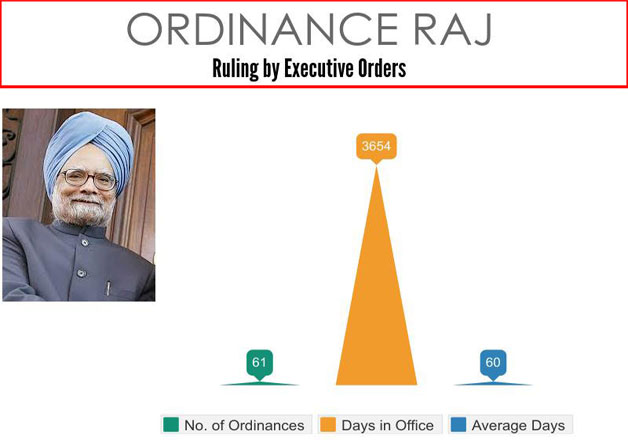 Much lesser than these, we saw BJP's inspirational face and the Bharat Ratna awardee Atal Bihari Vajpayee having promulgated only 39 ordinances in his tenure of 2267 days.
Talking of overall, the worst performers were those from Janata governments – HD Deve Gowda and IK Gujral – both of who had issued ordinances on an average of one in every 14 days.
As far as the issuance of these ordinances is concerned, Nehru and Indira Gandhi still had an upper edge as compared to Modi who does not have a clear majority in Rajya Sabha.
To mention, in the last winter session only, Rajya Sabha came to a standstill and did not allow passage of even key bills like Insurance Bills and Coal mines which were cleared by Lok Sabha.
The government later issued ordinances to start coal auction and allow FDI in insurance along with an ordinance on land acquisition.
On Tuesday, the President has promulgated the eighth ordinance of Modi government which will merge person of Indian origin (PIO) and overseas citizenship of India schemes and allow PIOs to avail lifetime Indian visa.