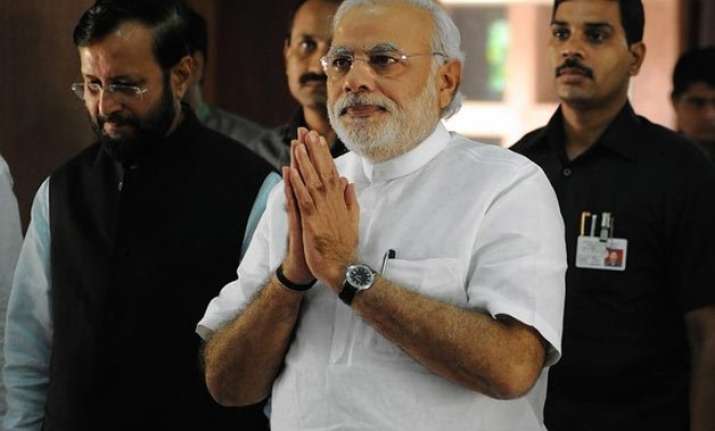 New Delhi: 2014 was indeed a year of the Bharatiya Janata Party (BJP) and the party will not forget it for a long time.
Under the leadership of Narendra Modi, who is known for getting things done in Gujarat  where he served as CM for more than a decade, the BJP stormed to power on its own.
It was for the first time that any political party crossed the magic figure of 272 on its own in last three decades of India's electoral history.
The BJP mentioned during the Lok Sabha campaigns that Modi has a definite vision for the development of India and people believed him by voting him to power.
Modi govt is going to complete one year in office on May 26 .
How has the government performed on its promises made during Lok Sabha election campaign? What are the major highlights of Modi government's first year in office?
Here we present a  compilation of PM Modi's major hits and misses:
Victories and defeat
After registering thumping victory in the Lok Sabha polls in May, the party, under the leadership of Amit Shah, successfully managed to win assembly polls in Haryana, Jharkahand and emerged single largest party in Maharashtra. In Jammu and Kashmir, the saffron party scripted history by becoming second single largest party.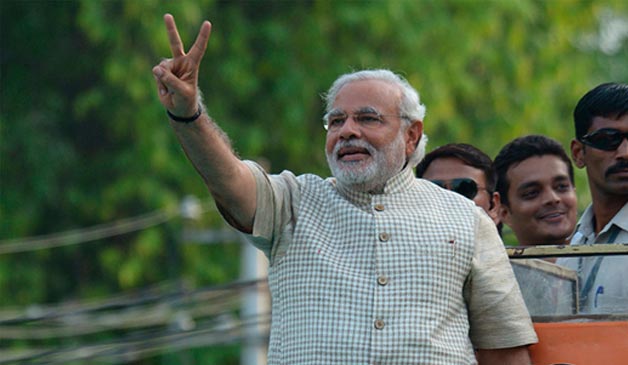 Besides forming government on its own in Haryana and Jharkhand, the party crossed the magic figure in Maharashtra and Jammu Kashmir with support of its ally Shiv Sena and PDP, respectively.
However, BJP's victory march was stopped by Aam Aadmi Party (AAP) in Delhi Assembly elections in February 2015 when it bagged only 3 seats in 70-member House.
The party is now preparing aggressively for the Bihar Assembly elections which are likely to be held in September or October this year.
Operation Rahat and Operation Maitri
Success of Operation Rahat in war-torn Yemen and Operation Maitri in Nepal by India was lauded by many countries including US.
Indian Armed Forces successfully to evacuate Indian citizens and other foreign nationals from Yemen after military intervention by Saudi Arabia. More than 4640 Indian citizens in Yemen were evacuated along with 960 foreign nationals of 41 countries. External Affairs Minister Sushma Swaraj and her deputy VK Singh were praised by PM Narendra Modi himself.
In Nepal, Operation Maitri by Indian armed forces started within 15 minutes of the quake. It started on 26 April 2015 and also involved Nepali ex-servicemen from India's Gurkha Regiments for interface for guidance, relief and rescue. PM Modi personally monitored the operation. IAF, Indian Army, NDRF and others agencies worked relentlessly in Nepal in the aftermath of the quake. While Nepal was grateful for India's efforts, the US said that India had acted like a global leader and the social media acknowledged Narendra Modi's ingenuities by trending #ThankyouPM.
J&K flood 2014
In September 2014, the Kashmir region witnessed disastrous floods triggered by torrential rainfall. Jammu and Kashmir as well as Pakistan administered Azad Kashmir, Gilgit-Baltistan and Punjab were affected by these floods. According to Ministry of Home Affairs (MHA), several thousand villages across the state had been hit and 390 villages had been completely submerged. The Prime Minister called it a 'national calamity' and provided utmost help to state. He also offered help to Pakistan in rescue and relief operations in PoK.
Beti Bachao Beti Padhao
Prime Minister Narendra Modi's flagship scheme aimed to generate awareness and improve the efficiency of welfare services meant for women. The scheme was initiated with an initial corpus of Rs 100 crore. Speaking on International Day of the Girl Child, the Prime Minister, called for eradication of female foeticide and invited suggestions from the citizens of India on 'Beti Bachao, Beti Padhao' on the MyGov portal. He launched the programme on January 22, 2015 from Panipat, Haryana.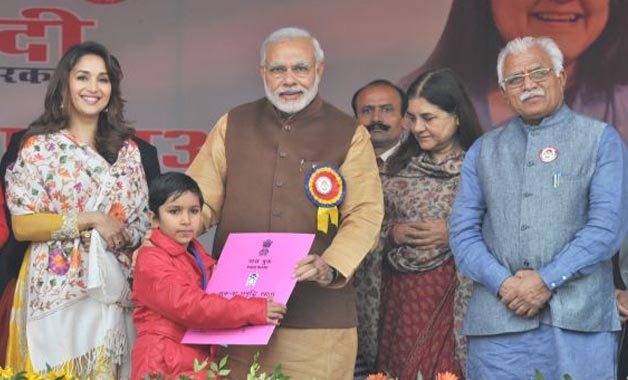 Blackmoney
The first Cabinet meet had set up of a Special Investigation Team (SIT), chaired and vice-chaired by two former judges of the Supreme Court to look into money stashed abroad. The government joined the global efforts to combat cross-border global tax evasion and tax fraud, and to promote international tax compliance.
In the recently concluded Budget Session of the Parliament, the Undisclosed Foreign Income and Assets Bill, popularly known as the black money bill, providing for heavy penalties for stashing black money away in foreign accounts, was passed.
Pradhan Mantri Jan-Dhan Yojana (PMJDY) and Higher compensation to farmers
PM Modi launched one of his pet projects Pradhan Mantri Jan-Dhan Yojana (PMJDY) in August last year to ensure financial access to every citizen. The plan envisages universal access to banking facilities with at least one basic banking account for every household, financial literacy, access to credit, insurance and pension facility. The beneficiaries would get RuPay Debit card having inbuilt accident insurance cover of  Rs 1 lakh. The plan also envisages channelling all government benefits to the beneficiaries accounts.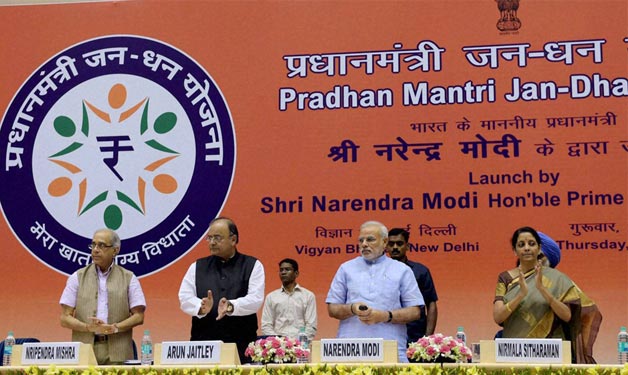 This was even commended by the Guinness Book of World Records. A recent World Bank report said that - till January 2015 - 125 million bank accounts have been opened under PMJDY.
Hike in farmers' compensation
In order to help farmers hit by unseasonal rains and hailstorm, the Narendra Modi government announced higher compensation for crop damage and eased criteria for them to avail government support.
The criteria of 50 per cent crop damage for providing compensation to affected farmers was reduced to 33 per cent while the amount of compensation was increased to 1.5 times.
The Prime Minister also asked banks to restructure loans of affected farmers and instructed insurance companies to pro-actively settle their claims.
Foreign policy
PM Modi wowed heads of governments wherever he has gone so far. Modi's speech at New York's Madison Square Garden and Melbourne Cricket Ground in Australia was enthralled rapturous crowd. The events were covered widely by media.
After storming to power, Modi focussed on strengthening ties with neighbours. His first stop was Bhutan. His visit to Brazil for BRICS Summit also garnered everyone's attention. His visit to Japan, United States and Australia were crucial from India's point of view. The Prime Minister's personal bonds with leaders like Shinzo Abe, Barack Obama and Tony Abott is worth mentioning here.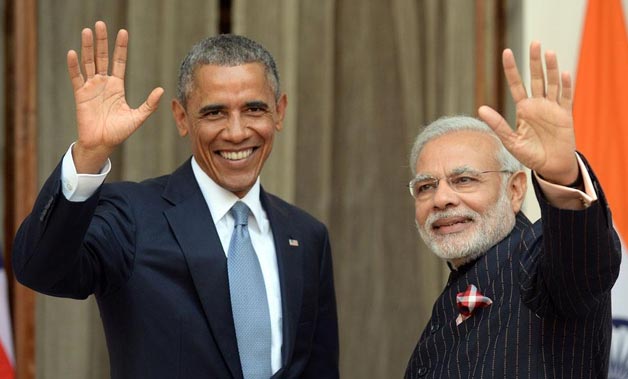 Obama's visit to India as chief guest for Republic Day celebrations was another coup by PM Modi.
This year's visit to France, Germany, Canada, China, Manolia and South Korea were another key highlight of diplomacy during PM Modi's first year in office.
Inflation
Inflation has been contained to an extent during the first year of the government so far. Inflation as measured by the consumer price index is hovering around 5%, below the RBI's comfort level. This allowed two rate cuts over the last few months. The repo rate currently stands at 7.5%. It also resulted into revision of home loan and other credit rates.
Economy
After clocking 7.2% growth in 2014, the Indian economy is on course to clock 7.5% growth rate in current fiscal. The mid-year update of the UN World Economic Situation and Prospects (WESP), released recently, said India's economy is projected to grow by 7.6 per cent this year and 7.7 per cent in 2016, overtaking China. The World Bank too projected India's growth rate at 8% in 2017.
New initiatives
In his first year in office, PM Modi launched several key initiatives including Swachh Bharat Abhiyan, Clean Ganga, Skill India, Make In India and Digital India
- Swachh Bharat Abhiyan
Swachh Bharat Abhiyan aimed to encourage hygiene in the country. The initiative had a great start. The target is to fulfil Mahatma Gandhi's dream of clean and green India by 2019.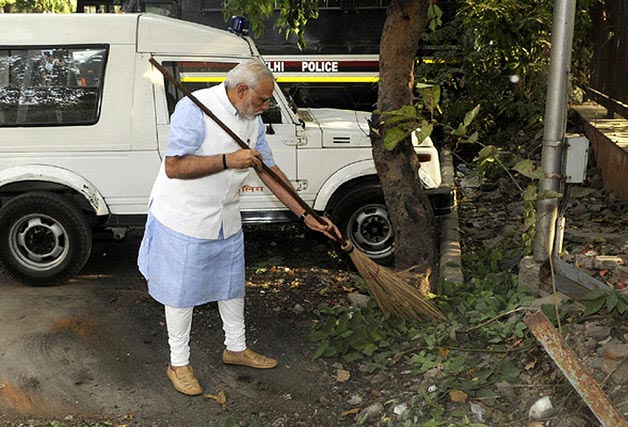 - Clean Ganga
The Union water resources and Ganga rejuvenation ministry has been in discussion with other ministries including urban development, environment and law over four different drafts which talk about possibility of framing a law with objectives of abating pollution and maintaining sustainable cleanliness.
- Skill India
The main goal of Skill India is to create opportunities, space and scope for the development of the talents of the Indian youth and to develop more of those sectors which have already been put under skill development for the last so many years and also to identify new sectors for skill development. The new programme aims at providing training and skill development to 500 million youth of the country by 2020, covering each and every village.
Finance Minister Arun Jaitley announced 100 percent tax exemption in Corporate Social Responsibility activities for Clean Ganga Fund.
The program, to clean river Ganga, has a budget outlay of Rs 20,000 crore for the next 5 years which was a significant four-fold increase over the expenditure in the past 30 years.
- Make In India
Make In India is another key initiative of the Prime Minister. This is aimed at turning India into a manufacturing hub. So far, the Modi government appears to have been successful in projecting India as a next destination for manufacturing.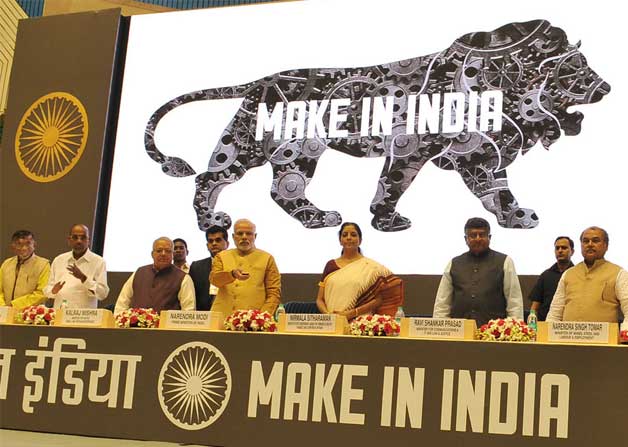 - Digital India
The Digital India aims to offer a one-stop shop for government services. The government hopes the Rs 1.13-lakh crore initiative that seeks to transform India into a connected economy will attract investment in electronics manufacturing and thus will create millions of jobs.
Telecom Minister Ravi Shankar Prasad has said PM Modi wants to ensure a smartphone in the hands of every citizen by 2019.
Attack on churches
Incidents of attack on religious structures and comments against minority community have been on rise. This invited unwanted criticism from several opposition parties. The Prime Minister himself had taken up the matter strongly against the attacks on churches and assured that the government would 'act strongly' without tolerance for fanaticism of any kind.
Also some remarks against Opposition bigwigs by BJP leaders landed government at a very embarrassing position and gave more ammunition to the Opposition to target the Modi government.
Land Bill and farmers' suicide
The government failed to Land Bill in the Budget Session of Parliament. The Right to Fair Compensation and Transparency in Land Acquisition, Rehabilitation and Resettlement (Amendment) Bill, 2015 was adopted by the Lok Sabha but government, which is in minority in Rajya Sabha, failed to table it the Upper House. Due to this, the Modi government has promulgated Land Ordinance twice and gave ammunition to Opposition parties to brand it anti-farmer.
Farmers' suicides have become a serious issue for the Narendra Modi government. The unseasonal rains destroy a majority of standing crops across the country. As a result, a number of farmers committed suicide in distress.