Follow us on New Delhi: Just when the pundits had begun bemoaning his lack of killer instinct, Younis has silenced them with a majestic walk into the Hall of Fame when he hit three consecutive centuries in as many innings against mighty Australia.
Pakistan batsman Younis Khan has now changed the topic of the debate from "should he or should he be not in world cup squad  to "is he or is he not one of the great batsmen that Pakistan has produced."
One of Pakistan's modern batting greats, Younus Khan is the kind of man who responds best in adversity. A Test average of over 50, a triple-hundred, a famous double-hundred against India in India and now three consecutive centuries against Australia leave no doubt about his quality and class.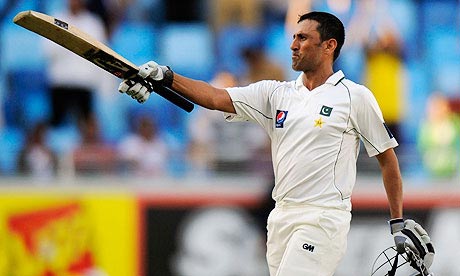 He is the only Pakistani batsman to score three consecutive hundreds against the Aussies, and also the third highest test scorer for Pakistan. Never to forget he also holds the record of most centuries by any Pakistan batsman.
However because of his poor form in ODIs it is still being debated if he should be included for World Cup squad next year or not.