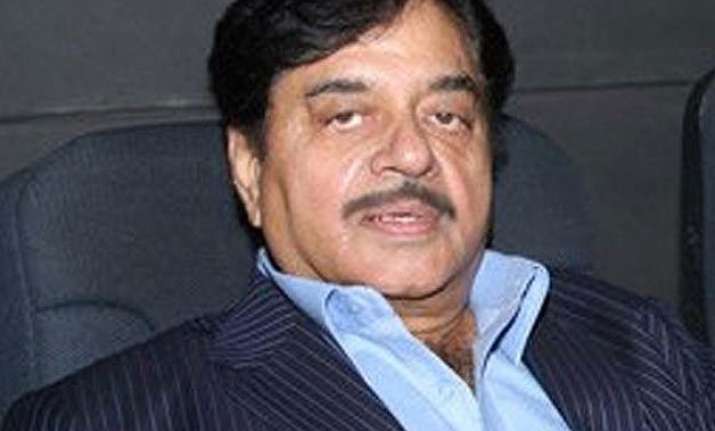 Patna:  Disgruntled BJP MP from Patna Shatrughan Sinha today made a veiled threat to the Party leadership against  taking disciplinary action against him. The leader has posted a series of tweets on the micro blogging site Twitter stating the consequences if the BJP decides to sack him .
The leader posted his tweets after  after the media reports came that Sinha may be ousted for his activities which were bringing bad publicity  for BJP. He ,in a series of tweets, said that one shouldn't forget Newton's third law "Every action has an equal and opposite reaction".
Sinha had said yesterday, "In my personal capacity and in the larger interest of BJP in general and NDA in particular, I strongly suggest the able, capable, acceptable, respectable and secular Ram Vilas Paswan as the potential/consensus CM candidate of Bihar from our side."
He added, "The only desirable and advisable personality from our side who will be acceptable to all of us is Ram Vilas Paswan. The ultimate decision of course lies with the party and its parliamentary board."
Sinha recently had a one-on-one interaction with BJP rivals like Mr Nitish Kumar and DelhiCM Arvind Kejriwal and his praise for political opponents did not go down well within his party.
Earlier, a senior BJP leader has said BJP will not take any action against its defiant Lok Sabha member Shatrughan Sinha till the Bihar assembly elections are over..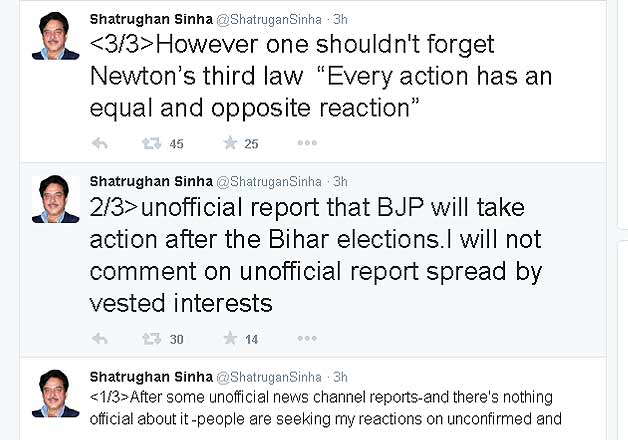 Asked whether the Bharatiya Janata Party would take action against Sinha, the leader said on condition of anonymity: "Will talk after counting in Bihar election."
On Sinha's continuous remarks supporting Janata Dal-United leader and Bihar Chief Minister Nitish Kumar, he said: "What can I say about what is not in my hand."
Sinha -- popularly known as "Shotgun" -- had recently called Nitish Kumar the country's best chief minister and has been continuously embarrassing the BJP through his statements.
Sinha had recently expressed unhappiness over the suspension of 25 Congress members by Lok Sabha Speaker Sumitra Mahajan.
He was also among  around 200 celebrities who had urged President Pranab Mukherjee to reconsider the mercy plea of 1993 Mumbai blasts convict Yakub Memon.