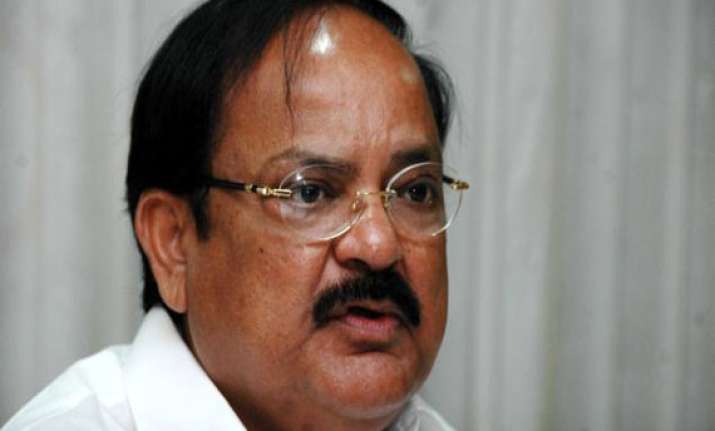 New Delhi: With the Telangana Bill likely to be taken up for consideration in the Lok Sabha today, BJP tonight made it clear that it will press for a discussion on the crucial legislation as it wants the concerns of Seemandhra region to be properly addressed.
Government tried to reach out to the main Opposition party but it maintained it has not given any assurance or commitment on the issue and will not allow the bill to be passed in the din.
Congress has issued a whip asking all its members to be present in the Lok Sabha and vote in favour of the Andhra Pradesh Reorganisation Bill, which seeks to create a Telangana state.
BJP apprehends that the ruling party might get the bill passed in the din without holding a proper discussion and without taking care of the concerns of Seemandhra region.  "We have not given any assurance to the government on the passage of the Bill. We have told them that the concerns of Seemandhra region be addressed first and hold an in-depth discussion on the bill after bringing the House and Congress MPs in order. BJP has not given any commitment to the government," BJP leader Venkaiah Naidu told PTI.  
During the meeting of its senior BJP leaders with Home Minister Sushilkumar Shinde, the Opposition party asked the government to put its own house in order and address the concerns of the Seemandhra region while cautioning it not to pass the bill amid din and without a discussion.  
"We are for Telangana but the concerns of the Seemandhra region must also be addressed simultaneously and Congress should first put its own house in order," Naidu said on what he conveyed to the minister during the meeting.  "We told Congress to create a proper atmosphere for passage of the bill. We also asked Congress not to pass the bill amid the din as proper discussion is required before the bifurcation of a state and creation of a new state," he said.
Naidu said he conveyed strong protest to Shinde on the manner in which the bill was brought and also about selective suspension of members, while charging Congress with "mishandling" the issue and "endangering national unity" by creating such a situation.