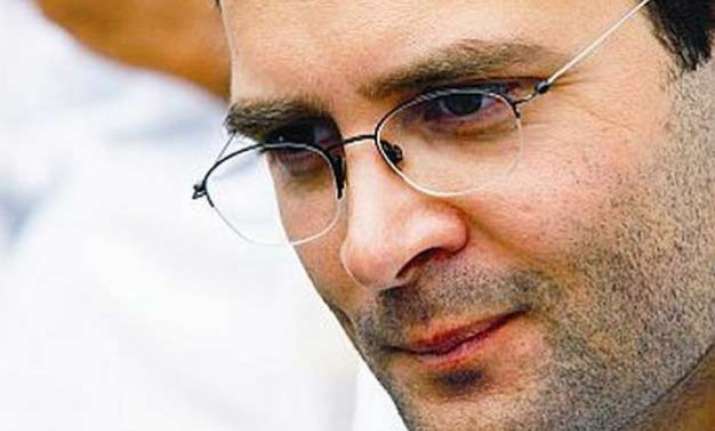 Jaipur:  Congress Vice President Rahul Gandhi today attacked BJP saying the saffron party would ruin the progress made by the country in last 60 years but his party would not allow it to do so.
"India was built in last 60 years. During this period, it has progressed and all round development took place, but these people (BJP) are going to ruin it, but we will not allow them to do so," Rahul said addressing Pradesh Congress Committee functionaries during inauguration of 125th birth anniversary celebrations of Dr B R Ambedkar here.
"It is our (Congress) collective responsibility to save nation's progress and development," he exhorted.  
Rahul also reiterated that the party would give ticket for Lok Sabha and Assembly polls only to those people who would work on the ground and roads for farmers, labourers and poor.  
Asking party leaders not to wait for three-and-a-half years, he said, every one in the party should start work from today, whether it is big or small leader, MLA, Pradhan or Parshad everyone has to fight for public cause.  
Addressing women present there, Gandhi said the party was going to work specially for them, making place for them in the party to bring women in mainstream.
He asked PCC functionaries and senior leaders to stay united against the rival BJP at all levels.  
Gandhi, as part of the 125th bith anniversary celebrations of Dr B R Ambedkar, unveiled his portrait, recalling him as a great person who changed the life of poor and given direction to the nation.
He asked party workers to take Ambedkar's portrait or picture to each house and tell the people about his ideals and work.
Speaking on the occasion, PCC Chief Sachin Pilot assured Rahul that the workers would carry the message of Ambedkar to every house, and make the failures of BJP government public.  
"PCC will ensure victory on maximum seats in upcoming 129 civic bodies' polls slated next month," Pilot said.  
Apart from Pilot, former Rajasthan Chief Ministers Ashok Gehlot and Jagannath Paharia and leaders of Congress' frontal organisations were present.
After the meeting, Rahul left for Delhi.