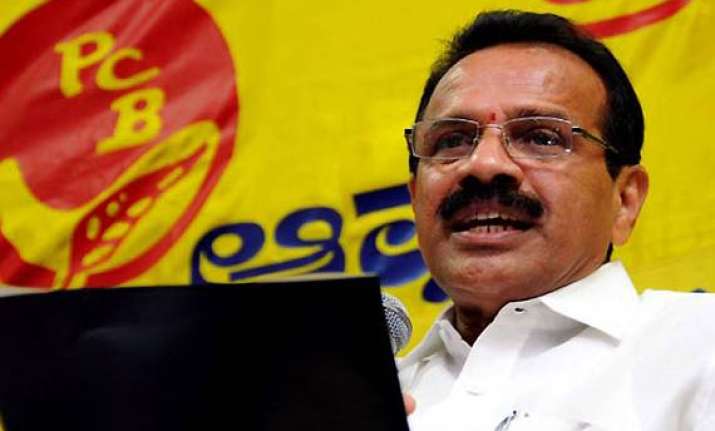 Bangalore, Dec 10: Ruling BJP in Karnataka today rubbished reports that its strongman B S Yeddyurappa was trying to scuttle the election of Chief Minister D V Sadananda Gowda to the legislative council and brushed aside threat by rebels, asserting that he would win the December 22 poll. 

"I am surprised by the reports. There is no confusion in the party. There is not even one per cent doubt about Gowda getting elected. All MLAs are united in the party", state unit BJP chief K S Eshwarappa told reporters here. 

Eshwarappa said Gowda would file his papers on Monday and expressed surprise over reports that Yeddyurappa has adopted pressure tactics in a hurry to regain Chief Minister's chair. 

Gowda, sworn in Chief Minister in August, is a Lok Sabha member and has to get elected to the state legislature within six months to fulfil a Constitutional requirement. 

Speaking to reporters in Tumkur, Gowda exuded confidence of getting elected to the council. "I will file my nomination on Monday...," he said.

When reporters drew his attention to the claim by former minister-turned rebel B Sreeramulu, a close associate of Bellary Reddy brothers, that 22 ruling party MLAs were with him, Gowda said he was confident of his victory in the poll in which Assembly members form the electoral college. 

BJP has suspended two MPs and four legislators loyal to mining barons G Janardhana Reddy and G Karunakara Reddy for supporting Sreeramulu openly in the recent byelection which he won as an independent after quitting the party. 

Ridiculing the rebels' claim, Eshwarappa said "BJP will complete its remaining one-and-half year tenure. No one can shake the Government."

"If he parades them, I will retire from politics," Eshwarappa said on Sreeramulu's claim that he had the support of 22 BJP MLAs.