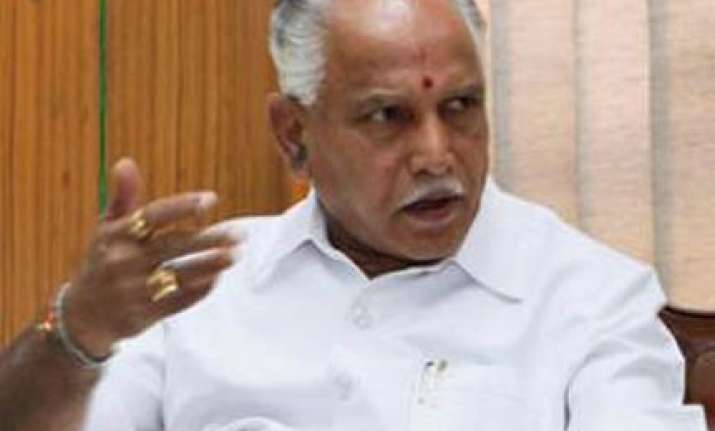 Bangalore, Oct 5 :  In what looks to be fresh trouble for the B S Yeddyurappa government in Karnataka, a group of disgruntled BJP legislators today held talks in a resort outside the city. The group involved more than 15 dissident MLAs, including those who were denied ministerial berths in the recent cabinet reshuffle, party sources said.
The Chief Minister held a meeting with State BJP chief K S Eshwarappa following the development, they said.
The BJP government is facing land scam allegations in recent days as a spirited opposition -- the Congress and JD-S -- is trying to corner Yeddyurappa and the Minister for IT, Biotechnology and Housing, Katta Subramanya Naidu.
State JDS President H D Kumaraswamy yesterday charged Yeddyurappa with denotifying more than five acres acquired by the Bangalore Development Authority (BDA) for a layout at Nagarbhavi here in violation of Supreme Court and High Court orders and over-ruling objections of officials.
Yeddyurappa was already facing allegations by Opposition leaders of denotifying certain land for the benefit of his family, a charge rejected by the Chief Minister.
Meanwhile, Eshwarappa sought to downplay the reported dissidence and said the government was not facing "instability".
He termed reports of such activities as "rumours" but admitted that some legislators who did not get ministerial berths were dissatisfied.
"Those who did not become Ministers are naturally sad. We will call them and talk to them", he said after a meeting with senior RSS functionaries at RSS headquarters "Keshava Krupa" where he went along with the chief minister.
Meanwhile, JD(S) leaders, led by state unit president and former chief minister H D Kumaraswamy, held a meeting against the backdrop of the dissident activity in the BJP. PTI