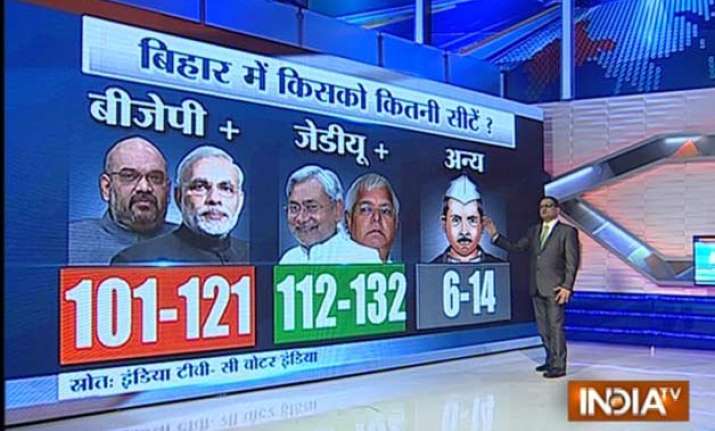 New Delhi: The 'grand alliance' of JD(U)-RJD-Congress led by Bihar chief minister Nitish Kumar may score an outright win over BJP-led NDA in the assembly sweepstakes, according to projections made by India TV-CVoter exit poll, results of which were telecast on the channel on Thursday evening.
The RJD-JD(U)-Congress grand alliance is projected to win 122 seats, the exact magic mark for a simple majority in the 243-member Bihar assembly. The seat range projected for the grand alliance is 112 to 132 seats.
On the other hand, the BJP-led NDA consisting of BJP, LJP, RLSP and HAM, is projected to win 111 seats, based on a range of 101 to 121 seats.  'Others' are expected to win 10 seats out of a range of 6 to 14, says the exit poll projection.
Partywise, in the 'maha gathbandhan' (grand alliance), ruling JD(U) is projected to win 67 seats, RJD 47, and Congress 8.
In the NDA, BJP is projected to win 91 seats, LJP seven, RLSP 4 and HAM 9 seats.
Vote share wise, the grand alliance forged by RJD, Janata Dal(U) and Congress is expected to get 42 percent, while the NDA is expected to get 41 per cent vote share.  'Others' including independents, Left and smaller parties, are expected to get 17 per cent vote share.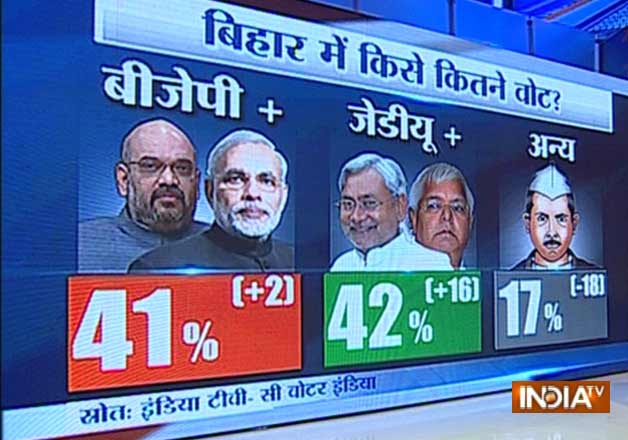 C-Voter said, the projections are based on a methodology based on random stratified sample of 35,000+  interviews covering all 243 segments in Bihar on all the five polling days.  Margin of error is +/- 3 per cent at state level and +/- 5 pc at regional level, C-Voter said.
In the 2010 Bihar assembly polls, the then BJP-JD(U) alliance had won 206 seats, while Lalu Prasad's RJD-led alliance with Paswan could win only 25 seats.
However, during the 2014 Lok Sabha elections, the NDA comprising BJP, Ramvilas Paswan's LJP and Upendra Kushwaha's RLSP won in 174 assembly segments, while the Lalu-Nitish combine could win only in 51 assembly segments in the face of Modi wave.