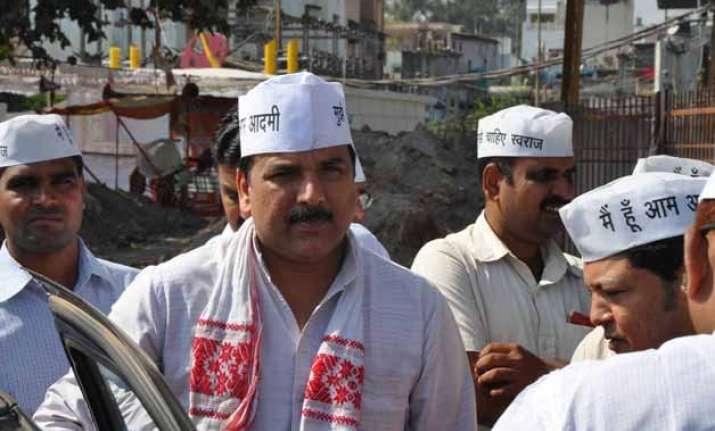 Sultanpur: AAP leader Sanjay Singh defended the party's decision to remove senior leaders Prashant Bhushan and Yogendra Yadav from the Political Affairs Committee, even as he sidestepped queries as to whether their expulsion was next on the cards.
"Yogendra Yadav and Prashant Bhushan are responsible for the prevailing inner party conflict. Both these leaders had strongly advocated contesting Lok Sabha elections across the country. But when the party fared badly, they held Arvind Kejriwal responsible for it," he said.
To a question whether the duo could be expelled from the party in near future, Singh said it was too early to say.
"All the issues are being considered and whatever decision is taken will be on the basis of facts," he said.
The AAP spokesman, who was here on a private visit yesterday, accused the ousted leaders of launching an anti- Kejriwal campaign.
"(Last year) Yogendra resigned from the PAC writing a seven-page letter...Matters which should have been raised at party forum were made public as part of a conspiracy," he said.
"During the Delhi Assembly polls, Prashant maintained distance and also said he wanted the party to lose...Only after this kind of behaviour they have been expelled from the PAC and their future responsibilities will be decided by the party," he said.
Singh noted that AAP convener Arvind Kejriwal's statement that the party will concentrate on Delhi for the next five years did not mean the party will not expand its base.
"Mission Expansion has been launched under which party organisation will be strengthened in six months and the issue of contesting polls in states where AAP's network is strong will be considered," the AAP leader said.
In the first official statement by top party leaders since the infighting came out in the open, Deputy Chief Minister Manish Sisodia, Transport Minister Gopal Rai, party's General Secretary Pankaj Gupta and Sanjay Singh today accused Prashant Bhushan, his father Shanti Bhushan and Yogendra Yadav of "working for the party's defeat and maligning Kejriwal's image."
AAP said that it was compelled to come out in the open as the two leaders were giving statements to the media.
"They were trying to portray as if the decision to drop them from the PAC was irresponsible and undemocratic," the leaders said in the statement.