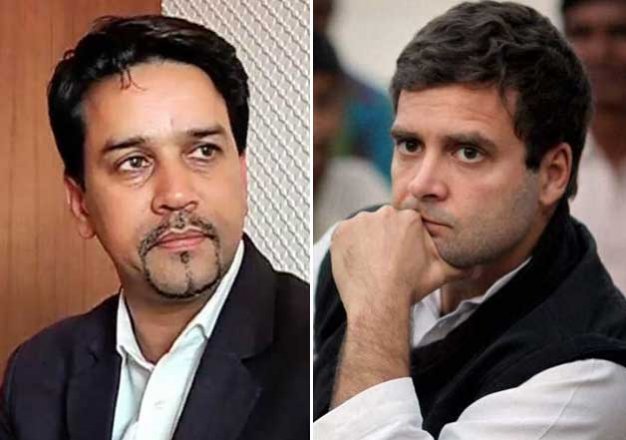 New Delhi: Union Minister Anurag Thakur today asked Congress vice-president Rahul Gandhi to clarify if he stands with those who attacked the Parliament of India or those who saved it.
" Do you stand with Afzal Guru who attacked Parliament or you stand with the soldiers who saved parliament?" Anurag Thakur asked while participating in the discussion on Rohi Vemulla suicide and JNU row in Lok Sabha today.
" Rahul Gandhi went to those who talked about breaking the nation but he had no time to visit the families of martyrs. Why was Rahul Gandhi standing with those who attacked democracy?" Thakur said.
Anurag Thakur asked Congress vice-president to explain why he sat with the same DSU (Democratic Students Union) which was put under government's watch list by Manmohan Singh regime for suspected connections with Naxals.
Ruing the fact that Rahul Gandhi stood with those who talked about balkanisation of India in a university that  is named after his grandfather.
 
"Congress' slogan is family first, party second, nation last," Anurag Thakur said.
Anurag asked took a dig at Rahul by asking him to explain if there was no similarity between Hitler and Indira Gandhi who imposed emergency in the country?
" They want to break India into 16 parts. Which part you want to rule?" Anurag asked the Congress vice-president.