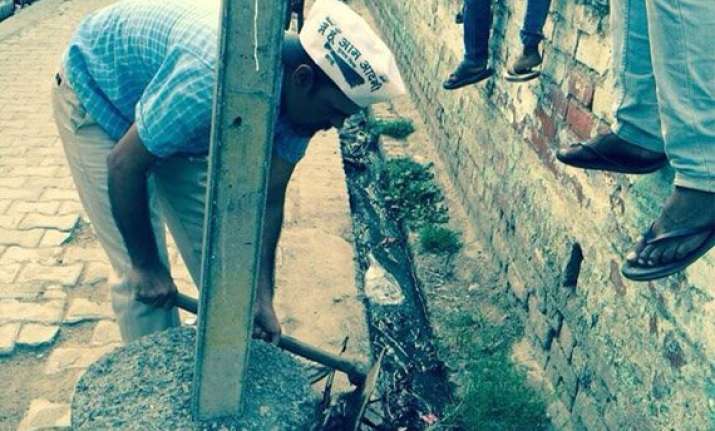 New Delhi: Asserting that the party supported the Narendra Modi government's 'Swachh Bharat Mission', senior leaders of AAP today met the three mayors of Delhi and handed them around 2,500 photographs purportedly showing insanitary conditions in the national capital.
AAP has received around 2,500 photographs from citizens on its helpline which show garbage lying at different places in the national capital, the party said in a statement.  
Accompanied by its Delhi state unit workers, AAP leaders Manish Sisodia, Sanjay Singh and Ashutosh met the mayors of the North (Yogender Chandolia), East (Meenakshi) and South Delhi (Khushi Ram) together at the Civic Centre.  
AAP said it has started posting the photographs on its website as it believes that "public participation in the cleanliness drive is important for encouragement and awareness".
However, the party said that the final responsibility of the day-to-day work for keeping Delhi clean belongs to the municipal corporations.
"AAP has told the three mayors that the party supports the Prime Minister's 'Clean India Campaign' and its volunteers and leaders actively took part in the 'Shram Dan'," the statement said.
The North Delhi Municipal Corporation (NDMC), South Delhi Municipal Corporation (SDMC) and East Delhi Municipal Corporation (EDMC) have for the past seven years been led by BJP and the civic bodies have been participating in the Swachh Bharat campaign while also conducting their own parallel cleanliness drives.
Meanwhile, the three mayors held a joint press conference today where they said they will make all-out efforts to keep the areas under their jurisdiction, be it well-planned or unauthorised, as neat and clean as possible.  
"The three (mayors) lauded AAP's efforts for the sanitation drive and assured them about taking the needful action," said a statement released by NDMC.  
The mayors also appealed to the citizens and various groups to come forward and cooperate in any way possible in improving sanitation and cleanliness levels in the city.  
AAP said it will continue to monitor the work of garbage cleaning across the city and will encourage more photographs from the people indicating areas which need attention.  
"BJP has been ruling MCD since last seven years and the state of cleanliness is there for all to see, but AAP is of the view that let's not squabble over the past and in keeping with the Prime Minister's call, let there be a policy of zero-tolerance against unclean Delhi," the party said.