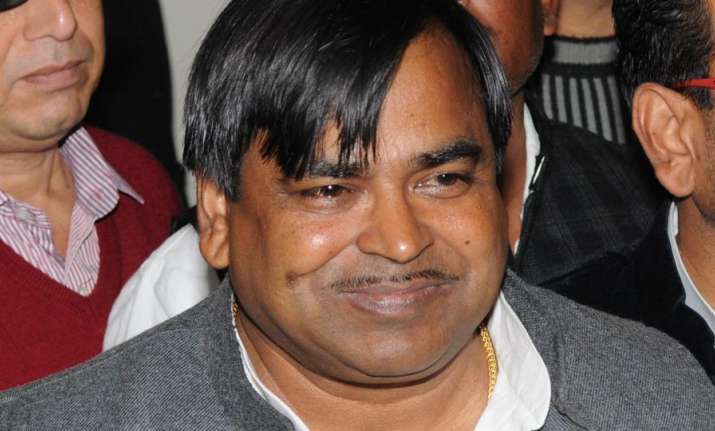 As the political drama unfolds over rape case against Uttar Pradesh Cabinet Minister Gayatri Prajapati just ahead of the last phase of polling in the state, Governor Ram Naik has asked Chief Minister Akhilesh Yadav that why the tainted minister has not been sacked. 
"A non-bailable warrant has been issued against Prajapati after an FIR was registered against him in rape case. Serious question of constitutional morality and dignity arise on his remaining in the cabinet", the Governor said in a letter to Akhilesh seeking his "justification on retaining the minister".
The Governor said, it has also come to his notice that the CM himself has asked the minister to surrender but he has not done so till now and is absconding. There are apprehensions that he might have fled to some foreign country, he said.
On Saturday, passport of the rape-accused UP minister was impounded, a look-out notice issued and airports alerted. The UP Police had claimed that it was conducting raids across the state to trace the absconding minister.
The UP Police has registered an FIR against Prajapati for allegedly gang-raping a woman and molesting her minor daughter with his aides. The FIR was filed recently following a directive of the Supreme Court.
Taking a dig at the Samjawadi Party government for shielding Prajapati, Prime Minister Narendra Modi at an election meeting in Jaunpur on Saturday said, "In this country, when we do something good, we chant the Gayatri Mantra. But, the SP-Congress alliance is chanting the 'Gayatri Prajapati Mantra'.
"A case has been lodged against him (but) the chief minister went to campaign for him while he (Gayatri) was present there...Now, the police cannot trace him," Modi said.
"A daughter is seeking justice and the chief minister is shielding the gunehgaar (guilty)... What bigger blot can there be than this that in Uttar Pradesh when a buffalo goes missing, the government runs to find it.
Sack "favourite" minister if you can't arrest him : BJP to Akhilesh
BJP UP chief Keshav Prasad Maurya today attacked Akhilesh Yadav, saying that if he cannot get his "favourite" minister Gayatri Prasad Prajapati arrested in the rape case, he should at least sack him.
Maurya, whose comments come a day after Prime Minister Narendra Modi accused the SP-Congress combine of chanting "Gayatri Prajapati Mantra", also said that BJP would get the tainted Prajapati arrested after results of the polls are declared.
"If Chief Minister Akhilesh ji cannot ensure the arrest of his favourite minister Gayatri Prasad Prajapati, then he can sack him (Prajapati)," Maurya said in a tweet.
Referring to March 11, the date when the UP assembly election results would be declared, Maurya said the BJP would put Prajapati behind bars after that.
"We would arrest him (Prajapati) after March 11," Maurya said.
Yesterday, the passport of Prajapati, who is a senior UP government minister was impounded and a look-out notice was issued against him, hours after Prime Minister Narendra Modi accused SP-Congress of chanting "Gayatri Prajapati Mantra".
On the directives of the Supreme Court, UP Police has filed an FIR against Prajapati, a senior SP leader, in connection with separate cases of gangrape and attempt to rape another woman and her minor daughter.
(With PTI inputs)