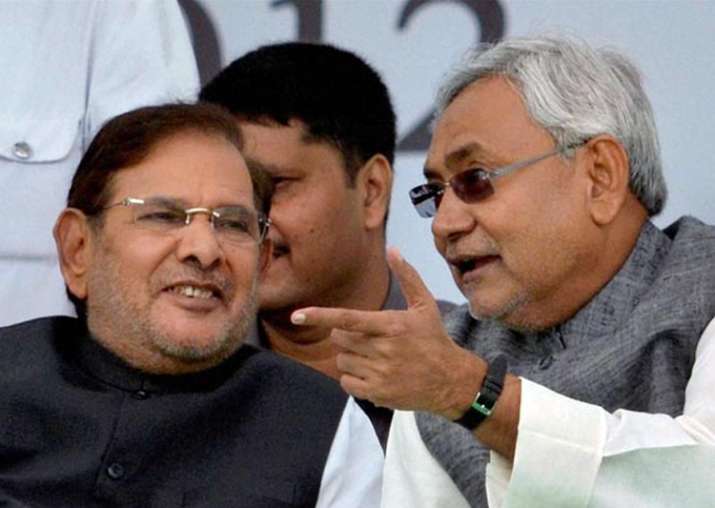 Janata Dal (United) national president and Bihar Chief Minister Nitish Kumar today said that senior party leader Sharad Yadav 'is free to choose his path if he can't accept tie-up with the BJP'.
"The party has taken a decision with everyone's consensus. He (Sharad Yadav) is free to make his own decisions," Kumar told reporters after meeting Prime Minister Narendra Modi here. 
Kumar's remark comes in backdrop of Yadav expressing his displeasure over the Chief Minister's decision to walk out of the Grand Alliance and join ranks with the BJP to form government in the state. 
Yesterday, Yadav had declared that he was still with the Grand Alliance of the RJD and Congress. 
"I still stand with Mahagathbandhan (Grand Alliance) that was given a mandate by 11 crore people in Bihar in the 2015 assembly polls to rule for five years," Yadav had told the media after landing at the Patna airport from Delhi. 
Yadav had even refused to attend the oath-taking ceremony of the new government headed by Kumar. He had said that Kumar betrayed the people of Bihar, who, in 2015, voted for the Mahagathbandhan. "The trust of 11 crore people who gave mandate to form the grand alliance government in Bihar was broken. The agreement of 'gathbandhan' (grand alliance) was for five years which was broken... I am hurt by this. I continue to stand for the 'gathbandhan'."
Kumar had on July 26 resigned as the Chief Minister of the state dumping the 20-month-old Grand Alliance comprising the Congress and the Rashtriya Janata Dal. He again took oath as the Chief Minister with the support of the BJP on July 27.
Earlier in the day, the JD(U) president met Prime Minister Narendra Modi to discuss developmental issues of the state and said that he will come back again this month to have a detailed meeting.