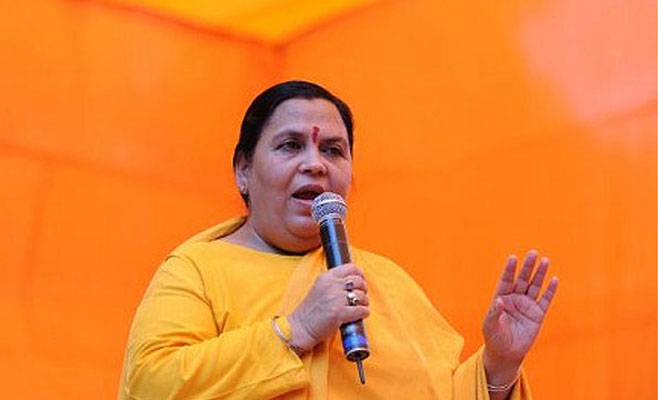 Union Minister Uma Bharti on Saturday said the Ram Temple in Ayodhya is a matter of faith and she was ready to go to jail or even die for it if she has to. 
"Ram temple is a matter of belief for me and I have immense pride in it. I will go to jail if I have to, I am ready to be hanged if I have to," the firebrand BJP leader said after meeting Uttar Pradesh Chief Minister Yogi Adityanath in Lucknow. 
The Water Resources Minister was part of Ram temple movement and allegedly played a role in demolition the disputed Babri Masjit in Ayodhya. 
Asked if the issue of Ram temple construction in Ayodhya figured in the talks with Adityanath, she said, "We don't need to talk about Ram temple...We (Uma and Yogi) are not strangers on this issue... Yogiji's guru Mahant Avaidnath was the leader of the temple movement." 
The Union minister said that since the matter is pending in the Supreme Court she would refrain from speaking much on it but pointed out that the apex court has noted that the matter could be resolved outside the court. 
The Supreme Court had recently reserved its order on a petition seeking restoration of conspiracy charges against Bharti and other senior BJP leaders, including L K Advani and MM Joshi, in the Babri Masjid demolition case.