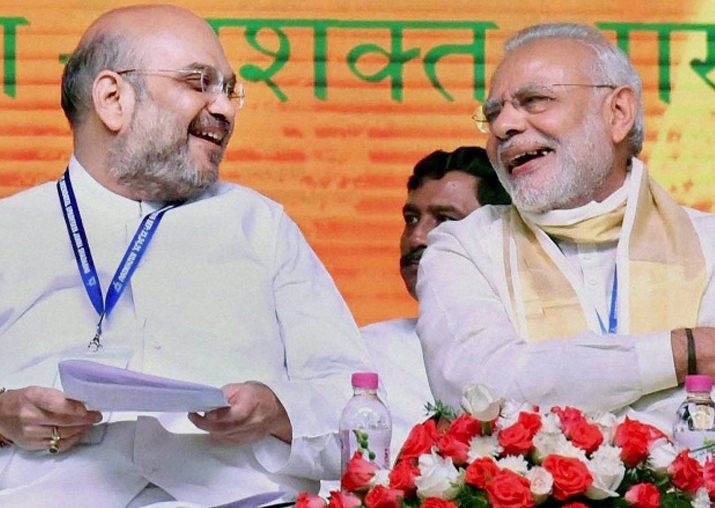 Prime Minister Narendra Modi's popularity has risen "unabated" across the country and people's satisfaction with the economy is at an "all-time high", BJP chief Amit Shah said today, citing a survey by the Pew Research Center. 
According to the survey conducted by the American think tank, more than eight-in-ten Indians say economic conditions are "good" in the country despite Modi's decision to abolish high-value bank notes last November. 
Nine out of ten people in the country hold a favourable opinion about him and that indicates the popularity of PM Narendra Modi among the countrymen, Shah said in a BJP statement. 
Modi started the politics of performance in this country by ending casteism, minority appeasement and nepotism from Indian polity, the BJP chief said adding that the country has witnessed a decisive, transparent and corruption free government led by Modi in last three years. 
"The findings of Pew Global research are very significant. After Modi Government came to power, people's trust in Government, Democracy and confidence that the nation is in the right direction has gone up drastically," Shah said in a series of tweets. 
प्रधानमंत्री @narendramodi जी की लोकप्रियता धर्म, जाति, क्षेत्र और सीमा से कहीं ऊपर है, वे हिन्दुस्तान के जन-जन के मन में हैं, प्यू रिसर्च सेंटर की रिपोर्ट इस तथ्य को ही प्रामाणित करती है : श्री @AmitShah

— BJP (@BJP4India) November 16, 2017
Modi remains the most popular national figure in Indian politics tested in the survey. His popularity is relatively unchanged in the north, has risen in the west and the south and is down slightly in the east, according to the survey's findings. 
"PM @narendramodi's popularity rises unabated across the length & breadth of the country and across demographic groups. His handling of various issues also receive a thumbs up from people," Shah said. 
The ease with which Modi handled all challenges for development and welfare of the country has further strengthened the people's trust on him and also enhanced his respect among them, Shah added. 
At the briefing on the decisions taken by the Union Cabinet today, Law Minister Ravi Shankar Prasad referred to the survey and said it showed that Modi and his governance has gained popularity in all corners of the country. 
He said the survey shows how the BJP and its leadership have gained popularity. 
Asked whether the report came up for discussions at the Cabinet meeting, Prasad merely said that he has been given the report. 
The survey was conducted among 2,464 respondents in India from February 21 to March 10. 
Shah also extended greetings to media professionals on the occasion of National Press Day and applauded their commitment towards their profession. 
"I applaud the commitment and efforts of every media person who works tirelessly to uphold the value of the fourth pillar of democracy," he said in a tweet.