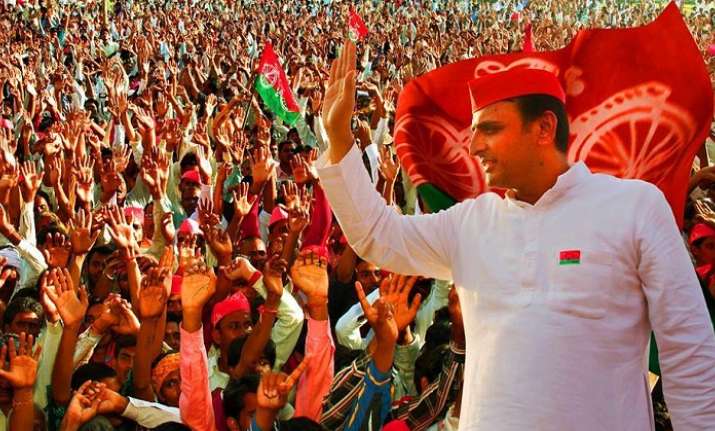 As Uttar Pradesh Chief Minister Akhilesh Yadav embarked on his 'Vikas Rath Yatra' ahead of the UP Assembly elections, the Yadav family set aside their differences and put forth a united front to send a message of unity in the ruling Samajwadi Party .
Party chief Mulayam Singh flagged off son Akhilesh Yadav's tour, who also shared the stage with uncle Shivpal in Yadav family's show of strength.
Interestingly, nearly seven youth leaders headed by Sunil Singh Sajan, all expelled from the samajwadi party, are accompanying UP CM and his family in his 'Vikas Yatra'.
The 37-foot-long and 15-foot tall bus has all the facilities like Wi-Fi connection, telephone connectivity, a small wash room, a mini-war room and a motorised platform, which will be propelled up by a hydraulic shaft that will bring Akhilesh out of the bus, face to face with the people.
The bus also has pictures of the flagship schemes of the state government -- Agra-Lucknow Expressway, Free Laptop Scheme and 1090 Women helpline.
Notedly, this is Akhilesh's third 'yatra' since 2001-2002. At that time though, he had covered the constituencies on a cycle, for which he also holds a record.
While the red-colour Mercedes bus has the images of SP chief Mulayam Singh Yadav, chief minister himself, socialist ideologues Jayaprakash Narayan, Ram Manohar Lohia and Jnaneshwar Mishra, his uncle Shivpal's picture is seen neither on the vehicle nor elsewhere.
On the first day of his tour today, Akhilesh is scheduled to travel 100 km in Lucknow and neighbouring Unnao. Though there are plans for him to stop every 2 kilometres to interact with people, he is likely to do so from a distance - on a hydraulic lift atop his Mercedes "rath".
Party MLC Sunil Yadav Sajan, who is also incharge of first leg of the yatra, told PTI that at every second kilometre, the CM will be welcomed and he will also address gatherings at various locations.
When asked that he has been expelled from the Samajwadi Party, Sajan said, "There is no irony (in this). Socialism is in our veins whether we remain in the party or not. What is important is that we are with Akhilesh."