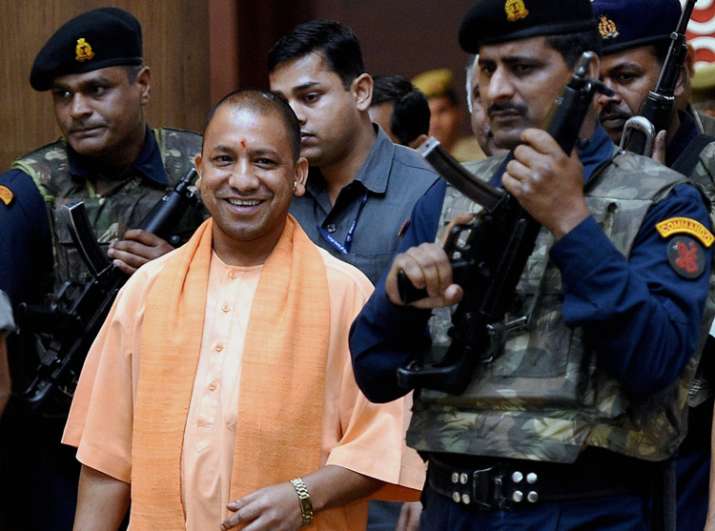 Uttar Pradesh Chief Minister Yogi Adityanath,  known for his hard-line on Hindutva, said on Wednesday that there was nothing wrong with India becoming a "Hindu Rashtra", adding that even the Supreme Court defined Hindutva as a way of life and not a religion.
In his first TV interview to DD News ever since he became the UP CM, Yogi Adityanath opened up on a wide range of issues, from ban on slaughterhouses and unemployment in the state to standards of education and situation of law and order. 
Here are the 10 things UP CM said during the DD news interview: 
1.    When asked whether it was wrong for a 'Yogi' to enter politics, CM Adityanath said that there was nothing wrong with being a Yogi. He said that Prime Minister Narendra Modi was no less than a Yogi, adding that his sacrifices for the nation are unprecedented. Adityanath went on to say that politics was for "yogis and not bhogis". 
2.    Talking about the standard of education, CM Adityanath said that schools should put in an extra effort to teach at least one foreign language to kids after Class X. He added that soon teachers will be inducted in transparent manner to improve quality of education.
3.    Further speaking on education, Adityanath said that schools in UP run only 120 days out of 365 days in a year and the government wants to increase it up to 220 days. He said that the schools have been asked to improve their syllabus and even use NCERT books and follow the CBSE pattern if required. 
4.    On Rs 36,359-crore farm loan waiver decision, he said that it was a big challenge to help the farmers and deliver on the promises while making sure that it is financially feasible. "It was the inspiration of Prime Minister Narendra Modi that we were able to come to a conclusion and announced the farm loan waiver," he added. 
5.    Addressing the law and order situation, Adityanath said that his government would not bow to 'gunda' elements, adding that those talking law into their hands will not be spared. He said that the authorities have been clearly instructed that people should not be judged based on their face values. "It doesn't matter if you are from a political party or any known person, if you are involved in a crime, action will be taken against you", he said. 
6.    Talking about sugarcane farmers, he said the government has taken a decision on it and if required, it might announce new sugar mills after the next cabinet meeting. Adityanath also said that pending payments of sugar cane farmers for 2014-15 and 2015-16 will be credited within 40 days.
7.    Talking about the party's poll promise to increase farmer's income by twice, Adityanath said that PM Narendra Modi has always maintained that his government is for the farmers and that BJP has been delivering on his words. He added that he will follow the footsteps of the Centre and will try to double farmers' income by 2019.
8.    When asked about issue of unemployment, he said that the UP government has taken nine decisions in the cabinet meeting and one of them was to introduce new industrial scheme in the state. Adityanath said that the government's aim is to provide employment to 90 per cent youngsters. 
9.    On the issue of ban on illegal slaughterhouses, CM Adityanath said that the crackdown on illegal abattoirs will not stop, specifying that everyone will have to follow the directive of Supreme Court and National Green Tribunal (NGT). 
10.    When asked about the controversial 'anti-Romeo' drive, CM Adityanath rejected all charges that associate anti-Romeo squads with any religion, saying that romeos don't have any religion.