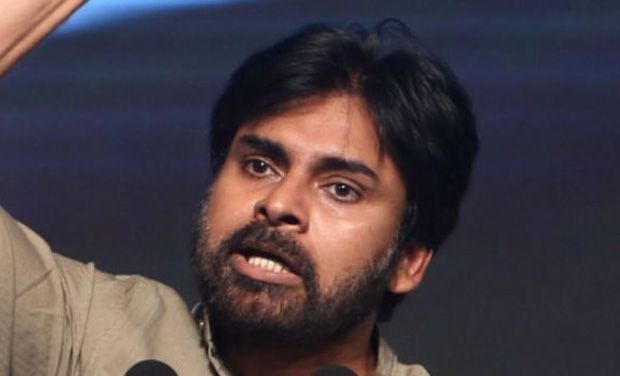 Actor-politician Pawan Kalyan on Friday accused both Andhra Pradesh's ruling Telugu Desam Party (TDP) and opposition YSR Congress Party of not being sincere in moving no-confidence motion against the BJP-led NDA government in Parliament.
Talking to reporters at Guntur and later at Vijayawada, he said both the parties were playing gimmicks over the issue as they were still unclear about the dates on which they plan to move the motion.
The TDP, which pulled out of the National Democratic Alliance on Friday over the latter's refusal to grant special category status to Andhra Pradesh, has announced that it will move a no-confidence motion in Lok Sabha. This came a day after YSR Congress submitting a notice to Lok Sabha secretariat to move the no-trust motion.
Denying the allegations by the TDP that he is hand in glove with the BJP, the Jana Sena chief alleged that the TDP and YSR Congress had colluded with each other.
On allegations by TDP president and Andhra Pradesh Chief Minister N. Chandrababu Naidu that BJP is behind him, he said the people were behind him.
Pawan Kalyan, who had campaigned for BJP-TDP alliance in 2014, said he extended his support to the Centre without expecting any post.
Recalling that Prime Minister Narendra Modi during the election campaign had promised special category status and industrial incentives to Andhra Pradesh, he said the leaders should stand by their word. "Not fulfilling the commitments is unconstitutional," he remarked.
Pawan Kalyan remarked that 25 MPs can be blackmailed but it was not possible to blackmail the people.
He claimed that he has prepared an action plan to achieve special category status and will launch the campaign after ongoing examinations.
Pawan Kalyan has come under sharp criticism from TDP for targeting the party and making allegations of corruption against Chandrababu Naidu's son Nara Lokesh, who is also a cabinet minister.
The TDP alleged that the actor who was silent for four years suddenly started making allegations against the state government at the behest of BJP.