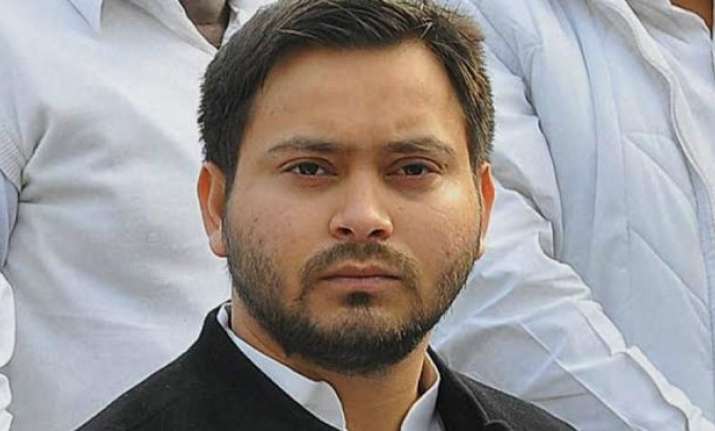 Former Bihar Deputy Chief Minister Tejashwi Yadav today came out all guns blazing against Chief Minister and his former ally Nitish Kumar during the floor test in Bihar Assembly today. There were ample indications of a ruckus in the Bihar Assembly as the Chief Minister seeks to prove majority of the government in an alliance between the JD(U) and the BJP, among other parties. Today, Tejashwi reiterated his charge against Nitish of betraying the trust of the electorate that gave its mandate against the BJP. He also said Nitish has wasted four years of Bihar, referring to his breakout with the BJP in 2013 and realigning in wake of the recent developments now.
Here are 10 major takeaways from Tejashwi Yadav's speech in Bihar Assembly:
Nitish Kumar could not muster the courage to dismiss me. We (RJD) have 80 MLAs and have self-respect. Let me tell you about who has a mass base in Bihar. When JD(U) fought the 2014 Lok Sabha polls on its own, it could manage only 2 seats.
Nitish Kumar used to say to us that 'you have to fight the RSS. We are past that age now and you have to see to it now.' Boss, it was all a drama scripted to build an image. Not once did I ever get a call from anyone. Nitish neither called me nor sought my resignation. What do I answer and whom do I answer to?
When I approached Nitish when there were CBI raids being conducted, but he fell sick. When Meera Kumar (the UPA's presidential candidate) was on a visit to Patna, Nitish went to Rajgir. He did not attend the opposition meeting (in Delhi) but went for a lunch with Prime Minister Narendra Modi. We are not fools that we could not understanding what was going on.
Nitish Kumar's entry to the BJP was being planned from before. PM Modi has not fulfilled any of his promises to the people. He does not have the face to come to Bihar. It is for this reason that Nitish scripted all this drama.
Nitish Kumar is anti-backward and anti-Dalit. Lalu Yadav has been facing cases for years. Did Nitish not know this? Was he unaware that RJD is a corrupt party that he is today seeking to get rid of us?
On one hand, Nitish Kumar is embracing the murderers of Mahatma Gandhi and on the other, he is celebrating his centenary.
Who first spoke about 'Sangh-mukta Bharat' (RSS-free India)? The Chief Minister has bowed down before the RSS
Nitish Kumar is a deserter. I am 28 years old but not scared. Nitish had said 'Mitti mein mil jaunga lekin BJP mein nahin jaunga (Will not join the BJP even if I am ruined politically)'.
We were never given an opportunity (by the Governor). Nitish Kumar was given time for evening (for the swearing-in) but he was administered oath in the morning.  
 Will Nitish Kumar, in collaboration with Narendra Modi, formulate a rule saying that an individual holding a constitutional position will relinquish his/her position if an FIR is lodged against him?