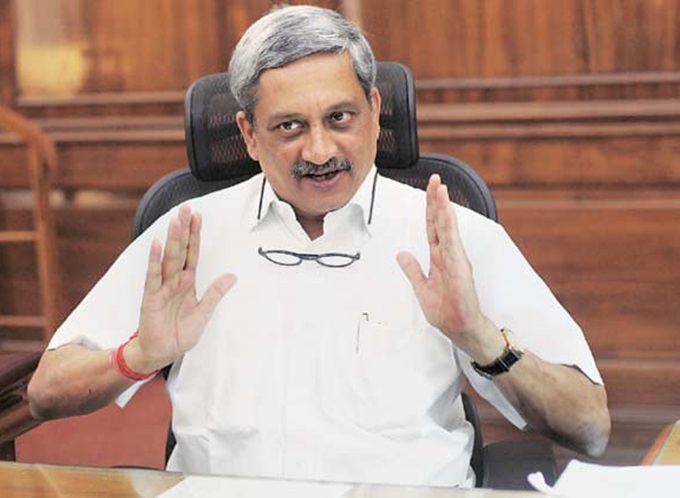 A day after West Bengal Chief Minister Mamata Banerjee termed the Centre's move of deploying the Army at toll plazas in the state without informing her as an 'army coup', Defence Minister Manohar Parrikar today informed the Lok Sabha that it was a routine exercise by the Army which is being carried out since many years.
"It was army's routine exercise being carried out since many years. On November 19 and 21, 2015, it had taken place too," Defence Minister informed LS.
Amid TMC uproar in the Lower House over the Army deployment issue, Parrikar said: "Saddening that a routine exercise has been made a controversy now."
On Thursday night, Mamata Banerjee refused to leave the state secretariat after Centre deployed the Army at toll plazas in West Bengal.
Reacting to Mamata's move, a Defence spokesperson said that the Army conducts bi-annual exercise throughout the country with the aim to get statistical data about the load carriers that could be made available to the army in case of a contingency.
"There is nothing alarming about this and it is carried out as per government orders," Wing Commander S S Birdi said.
The exercise gives an estimate about the number of vehicles passing through a certain area that could be tapped during operations, he said
"Army conducting routine exercise with full knowledge and coord with WB Police. Speculation of army taking over toll plaza incorrect," the Eastern Command said on Twitter.
The Kolkata police, however, said they have raised objection to this Army exercise due to security reasons and traffic problem.
"Army exercise at toll plaza was objected to in writing by Kolkata Police, citing security reasons & traffic inconvenience," the city police said on Twitter.
The drama unfolded in the evening when Banerjee alleged that Army deployment was done in toll plazas without informing the state government and described it as "unprecedented" and "a very serious situation worse than Emergency".
She claimed that people got panicky due to deployment of Army at toll plazas.
The Chief Minister said "The Secretariat is a sensitive zone and toll plaza is a sensitive place. Why is the Army here? Whatever reason they are giving is not correct. They are lying. They are changing their reasons from time to time. The MHA has the complete data of the vehicles moving in different states."
Banerjee said she has checked with other states but nothing such has happened in Maharashtra, Kerala, Odisha and Chattisgarh.
"Why is that happening here? I fear that they can shoot. Either I will live or die but I will speak for the common people," Banerjee said.
"I do not have any problem if the Centre behaves like the central government. But they are repeatedly doing mistakes and now they are doing a blunder. It is an attack on the federal structure. We want to know the details," she had said.