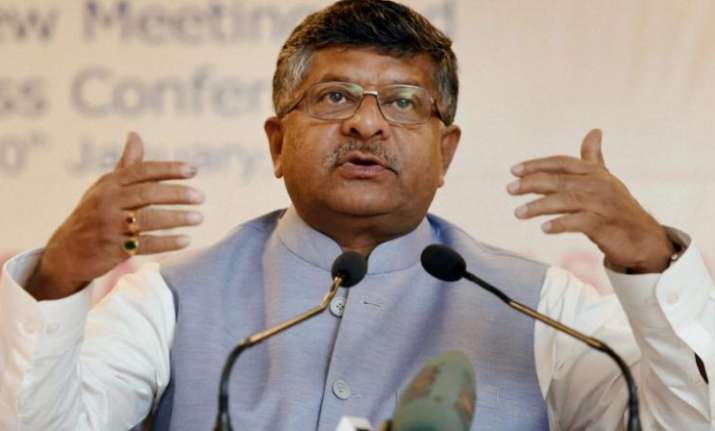 In reply to Rahul Gandhi's letter to PM Narendra Modi, Union minister Ravi Shankar Prasad also wrote a letter to Congress president on Tuesday in which he asked why during UPA government Women Reservation Bill was not passed in the Parliament.
"The government would like to understand fully the reasons why the bill was not taken up for three years by the UPA government in the Lok Sabha and allowed to lapse," the letter read.
"Since you have shown your deep concern for support of the women reservation in Parliament...I propose that both the national parties (BJP & Congress) should come together and offer a 'new deal' to Indian women," Ravi Shankar Prasad further suggested.
Seeking to corner the Congress on the issue of women empowerment, Prasad urged the main opposition party to provide women with a "new deal". He suggested that both parties should join hands to pass the bills on women's reservation, instant triple talaq and nikah halala in Parliament. 
Catch all the latest news about Lok Sabha elections 2019 HERE
Union minister was responding to a letter by Gandhi to PM Modi to bring the bill on granting 33 per cent reservation to women in Lok Sabha and state assemblies. 
Prasad wrote to Congress president as his ministry deals with the issue of reservation in legislatures and personal laws. 
The monsoon session of Parliament begins on Wednesday. 
Catch all the latest news about Indian politics HERE
Rahul Gandhi had written to PM asking him to ensure the passage of the Women's Reservation Bill in the Monsoon Session of Parliament. 
In his letter, Gandhi offered his Congress' unconditional support to the bill and said the time has come for a change and for women to take their fair place in state legislatures and Parliament.   
It is pertinent to mention here that before the Lok Sabha elections 2019 only two sessions of Parliament-monsoon & winter-are left and BJP will try to make most of it. 
READ THE COMPLETE LETTER BELOW: