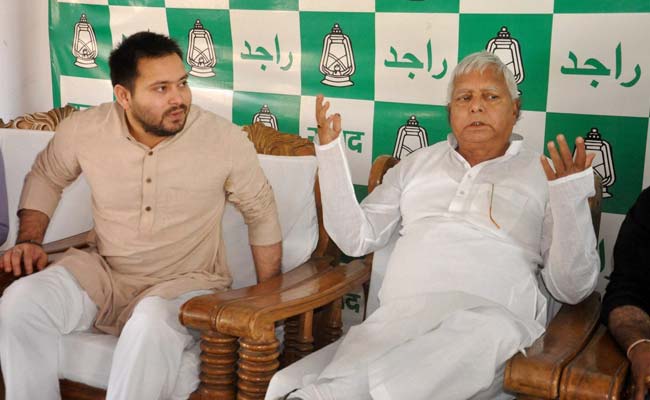 Rashtriya Janata Dal (RJD) supremo Lalu Prasad Yadav's son Tejashwi Yadav will not resign as Bihar's Deputy Chief Minister, the party said after the crucial core committee meeting chaired in Patna today.  
RJD leader Abdul Bari Siddiqui said that no discussions were held over Tejashwi's resignation as Deputy CM, or on Bihar Chief Minister Nitish Kumar's silence on the row. He, however, said that the party discussed on the upcoming presidential election and the public meeting called by Lalu Prasad Yadav on August 27. 
He also said that the party members discussed how take on the Bharatiya Janata Party, claiming that it is trying to destabilise the government by making efforts to demolish the party.
"Whoever opposes BJP is being targeted, We will fight back with double strength," said Siddiqui.    
"Nitish spoke to Lalu yesterday. He was ill earlier," said Jagdanand Singh, a senior leader from Lalu Yadav's party.
The RJD also categorically said there were no differences between Bihar Chief Minister Nitish Kumar and Lalu Prasad Yadav. The party said the former had called the latter yesterday and had asked about his well-being.
"There is a conspiracy to break the grand alliance, but the state government is very much in place and stable," it said.
The meeting was convened in the wake of several CBI raids on Lalu Prasad Yadav and the FIR against his son and Bihar Deputy Chief Minister Tejashwi Yadav.
With corruption allegations surfacing again against the first family of RJD, opposition parties, particularly Bharatiya Janata Party (BJP), have demanded that Tejaswi Yadav either resign from the top post or Nitish Kumar remove him from his cabinet.
On the other hand, RJD's alliance partner Janata Dal United (JDU), led by Bihar Chief Minister Nitish Kumar, has maintained silence on the entire row so far. 
Nitish Kumar even cancelled his weekly Lok Samvad programme for today, citing ill health. However, the move has triggered speculation that he was avoiding the media in view of the recent CBI raids on the family of Lalu Yadav.
A media report cited sources saying that Nitish is not just avoiding sharing space with deputy CM Tejashwi Yadav against whom an FIR has been lodged on charges of a amassing "benami" properties, but is also avoiding the media which has been trying to get a reaction from him on what will be his future course of action as far as continuance of Tejashwi in the cabinet is concerned after FIR was lodged against him.
The RJD supremo, his wife Rabri Devi, and son Tejashwi were booked by the CBI for alleged irregularities in tender allotment to a private firm Sujata Hotels for the maintenance and functioning of BNR hotels in Ranchi and Puri. 
On Saturday, Lalu Yadav's daughter Misa Bharti and her husband Shailesh Kumar came under probe for an alleged Rs 8,000 crore money laundering case. The Enforcement Directorate raided three properties linked to Misa followed by hours-long questioning with the former and her husband Shailesh.
The RJD supremo, however, refuted the allegations against him and called it a political conspiracy hatched by the BJP.
Nitish Kumar, on his part, has convened a meeting of party MPs, MLAs, MLCs and district presidents tomorrow at his residence to discuss the future course of action following CBI raids on Lalu and lodging of FIR against Tejashwi.
The heightening tension between RJD and JD(U) is visible as Nitish Kumar is not going to attend the public meeting in Patna called by Lalu Prasad on August 27 against the BJP.