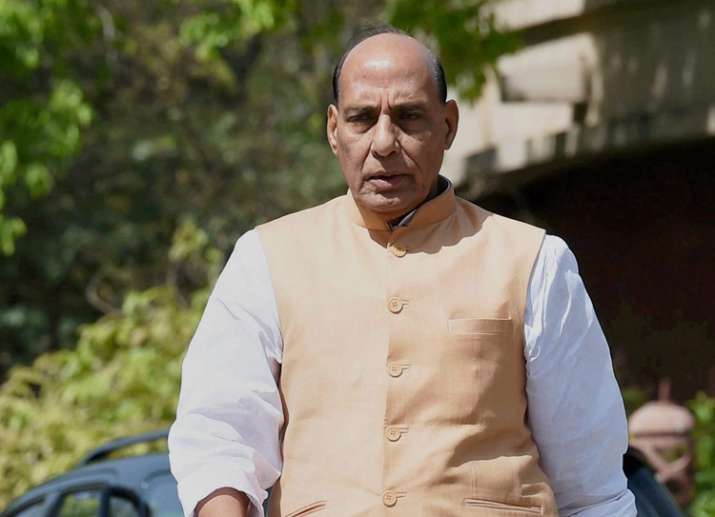 Union Home Minister Rajnath Singh on Tuesday reiterated that Kulbhushan Jadhav was not a spy and accused Pakistan of attempting a "pre-planned murder" of the former Navy officer while asserting that India will do "whatever it takes" to ensure his release. 
"Pakistan is attempting a pre-planned murder of Kulbhushan Jadhav," he said, striking an aggressive posture against Islamabad over the death penalty awarded to the Indian national by a military court in the neighbouring country. 
"Jadhav is not a spy and should be released," Singh said while speaking at the Lokmat Maharashtrian of the Year Awards here tonight. 
"He went out of India for business. Pakistan agencies kidnapped him. He was carrying an Indian passport. Do spies carry passports?" he asked, seeking to trash Islamabad's claim that the 46-year-old was involved in "espionage and sabotage activities". 
"We will do whatever it takes to ensure Jadhav's release. If needed we will take the issue to international fora," the Home Minister asserted. 
Speaking during an interactive session at the event, Singh maintained India won't hesitate to take "strong steps" to secure Jadhav's release. 
However, he did not disclose what "strong steps" New Delhi was contemplating. 
Jadhav, who hails from Maharashtra, was "arrested" on March 3 last year by Pakistan security officials allegedly in Balochistan which, they said, he entered from Iran. 
He was sentenced to death by a military court in a secret trial and the Pakistan's army chief yesterday approved his execution. 
Earlier in the Lok Sabha, Singh had said the government will do everything possible to get justice for Jadhav. 
While condemning the action, Singh said that Pakistan had ignored all norms of law and justice. 
"The government strongly condemns it. All norms of law and justice were ignored. I want to assure the House that the government will do everything possible to get justice for Jadhav. He will get justice," he said. 
External Affairs Minister Sushma Swaraj made a statement in both the Houses, asserting that India will go "out of way" to ensure justice to Jadhav who is an "innocent kidnapped Indian". 
Jadhav's execution will be taken by India as a "pre-meditated murder" and Pakistan should consider its consequences on bilateral relations, if it proceeds on this matter, Swaraj warned.