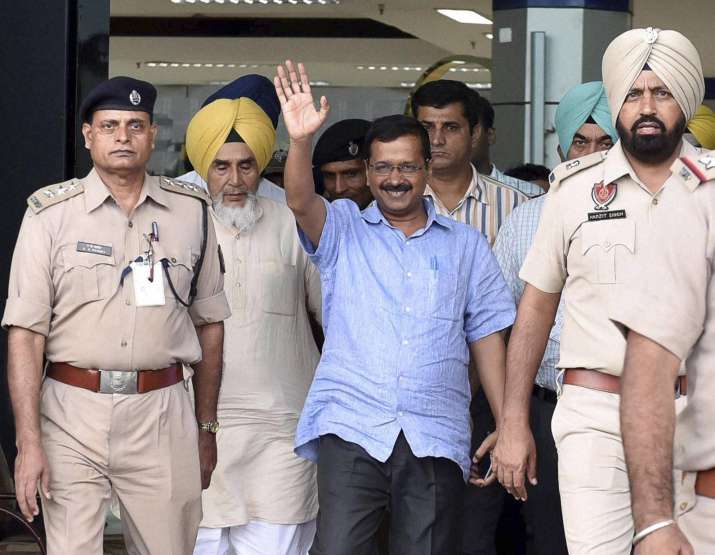 New Delhi: Delhi Chief Minister Arvind Kejriwal today came under intense attack from the Bhartiya Janata Party for accusing the Centre of creating an "India-Pak like situation" in the national capital.
The BJP dubbed Kejriwal's statement as "anti-national" and demanded his apology.
"It is shocking that Kejriwal is equating Delhi with Pakistan. It is an anti-national statement," Union Minister of State for Sports and Youth Affairs and BJP leader Vijay Goel told reporters here. 
"By playing the victim card and equating Delhi with Pakistan, Kejriwal has put India's image at stake," Goel said, and added: "His statement implies that India has been victimising Pakistan and that is what Pakistan's propaganda machinery has been trying to establish".
"Now, Kejriwal is speaking in the same voice as the propaganda machine of Pakistan," the Bharatiya Janata Party (BJP) leader alleged.
Goel's response came a day after the Aam Aadmi Party (AAP) leader held an interactive session "Talk To AK" on Sunday and accused the Centre of creating obstructions in the working of the Delhi government due to which, he said, it was unable to work to its full potential.
"If they (The Narendra Modi dispensation) would not have made this India-Pakistan situation, then work done by us would have been four times (more)," Kejriwal said on Sunday while answering a caller during his maiden interactive session.
Goel demanded that the AAP leader apologise to the nation for making such "irresponsible" statements. 
"It is unbecoming of a Chief Minister. If he doesn't offer an apology, the people of Delhi along with BJP workers will launch an agitation to compel him to do so," the Rajya Sabha member said.
"We are unfortunate to have a chief minister who seems to be hell-bent on bringing down the level of political discourse. He uses words like 'psychopath' and 'coward' for the Prime Minister. He calls Delhi Police personnel 'thulla', and now, he is equating Delhi with Pakistan," the BJP leader said.
"It can be his frustration but he should not put at stake national interests and the image of the country for petty political gains," Goel added.
Goel also accused the AAP leader of using derogatory language to earn publicity.
"They spent over Rs 100 crore during the odd-even traffic regulation scheme with his pictures on posters, whereas studies by different institutions clearly said that the pollution level and traffic conditions didn't improve in the city." 
Two Uttar Pradesh BJP leaders also lashed out at Delhi Chief Minister Arvind Kejriwal for accusing the Narendra Modi dispensation of turning the Union government's relationship with the state government into an "India-Pakistan situation". 
"Whatever Kejriwal has stated correctly placed him in the category of the head of the enemy country," said Surya Prakash Paul, general secretary of BJP's western Uttar Pradesh unit, and Avdhesh Sharma, general secretary of its youth wing. 
"(Kejriwal) keeps one eye closed towards laudable acts of the Union government whereas the open eye sorts out certain points to show the Union government as his foe," they said. 
The duo said: "Pakistan conspires to destabilise India and Kejriwal attempts to weaken the BJP."