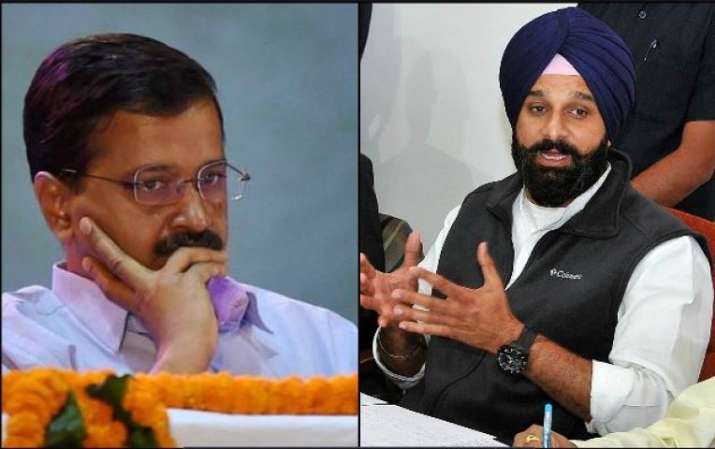 Delhi Chief Minister Arvind Kejriwal's apology to a SAD leader for accusing him of drugs trade pushed the party's Punjab unit into a crisis as the state leadership contemplated breaking away and forming a separate unit, saying the "meek surrender" was painful and very unfortunate. 
Kejriwal on Thursday tendered an apology for having levelled "unfounded" allegations related to involvement in drugs trade against Shiromani Akali Dal leader Bikram Singh Majithia following which the latter decided to withdraw the court case against him. 
Meanwhile, a lot is going in the political circles and a possible divide is being witnessed in the Punjab unit of Aam Aadmi Party. 
A two-round marathon meeting was held by the Punjab unit of AAP on Friday in which a resolution on splitting from the Delhi unit and forming a separate unit was discussed, though a final decision was deferred. 
Kejriwal also came under attack from several quarters over his apology to Majithia. Following the furore, AAP's Punjab in-charge Manish Sisodia on Friday said that the party leadership will talk to state leaders, who are unhappy over Kejriwal's apology, to solve the issue. 
Top 2 AAP leaders resign
Miffed over Kejriwal's apology, Sangrur MP Bhagwant Mann resigned as AAP's Punjab chief on Friday. Kejriwal's apology also drew flak from party's leaders and MLAs in Punjab, who said they were "stunned" by the move and "disappointed" as they were not kept in the "loop".
Mann announced his resignation on Twitter. 
"..I m resigning as a president of AAP Punjab...but my fight against drug mafia and all kind of corruption in Punjab will continue as an "Aam Aadmi" of Punjab (sic)," Mann said in a tweet. 
Mann, who represents Sangrur constituency in the Lok Sabha, was appointed the state party chief in May 2017.
Hours after Mann's resignation, Aam Aadmi Party's co-President Aman Arora also resigned. 
"Rspctd @msisodia ji, due to painful turn of events since yesterday (Thursday), please accept my resignation from the post of co-President. Regards," his tweet read.
LIP breaks alliance with AAP
In a further jolt, the Lok Insaf Party (LIP), their ally in the state, announced to break its alliance with AAP in the wake of Kejriwal's apology.
"We have announced to break our alliance with the AAP. We cannot be associated with a party whose main leader meekly surrendered by tendering apology to former minister Bikram Singh Majithia," LIP leader and MLA Simarjeet Singh Bains said here today. 
Bains also called Kejriwal a "traitor", alleging that he "betrayed" Punjabis by tendering an apology. 
"He is a fraudster. He accepted funds from Punjabis and also promised to punish Majithia. And now he tendered an apology which is a biggest fraud with Punjabis. Therefore we ended alliance with AAP," he said. 
However, he said he will continue to support "at personal level" 14-15 AAP MLAs out of 20 who are working in the interest of Punjab. 
The AAP and the LIP had entered into an alliance six months before the Punjab Assembly polls held in February last year. 
Who said what
# Harsimrat Kaur Badal, Union minister and SAD leader 
A classic example of a smear campaign run by them (AAP) in Delhi and Punjab by spreading false propaganda. They built the entire momentum of their election campaign (in Punjab) on lies...he (Kejriwal) stands thoroughy exposed. 
# Navjot Singh Sidhu, Punjab minister 
I feel Kejriwal has murdered AAP in Punjab. It is as if their existence has been wiped off. With what face will they speak against drugs in Punjab now?
Kejriwal has betrayed the people. How will AAP leaders now speak against drugs when their own leader has "meekly surrendered". 
Hitting out at the Delhi chief minister, he said, "Man like coward Kejriwal dies everyday for fifty times. But a brave man dies only once in life." This is a psychological death of the party. Kejriwal has decimated the AAP in Punjab, Sidhu claimed. "Initially, he tried to run the party (in Punjab) from Delhi through remote control. Today, he is a helpless gambler," he alleged.
Despite all the noise in political circles, Majithia seems to have forgiven Kejriwal for "realising his mistake". The SAD leader on Friday said that he has accepted the Delhi Chief Minister's apology and that it was a wise decision. 
WATCH VIDEO:
(With PTI inputs)