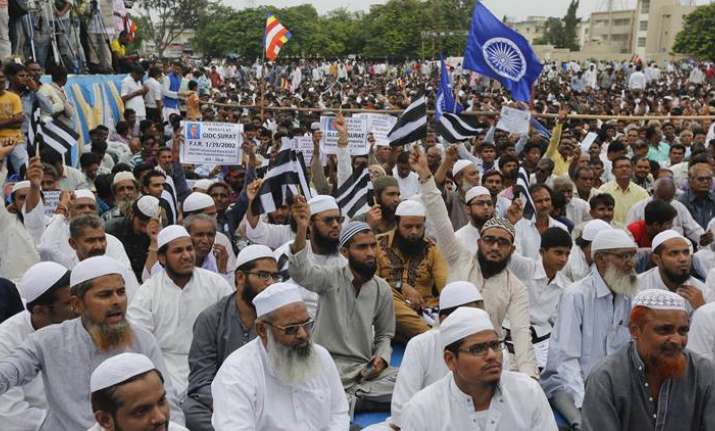 With the oppsoition calling for Dalit-Muslim unity to counter rise of BJP ahead of crucial UP assembly election, a senior party leader has warned the Dalit community that such an allaiance is not sustainable and that it has been "historically proven".
BJP general secretary P Muralidhar Rao said whenever Dalits came together with Muslims, Dalits suffered adversely with their "entity" wiped out.
He said whenever such an experiment was carried out, Dalits were at the receiving end and cited condition of people from the community in Pakistan.
He said, "In the name of this unity, Dalits were converted to Islam. Where are Dalits in Pakistan? What has happened in the name of this unity in Pakistan. Now there is no Dalit entity in Pakistan."
The comments assume significance as there were reports that Dalit families in some part of Tamil Nadu have decided to convert to Islam allegedly due to refusal by upper caste people to give them right to worship in temples.
Talking about social experiments by some political parties for Dalit-Muslim unity, Rao said, "Some people say Muslims and Dalits are united. Historically it has been proved that it is unsustainable. It has never happened and it will never happen....whenever this experiment was tried Dalits were beaten up."
The BJP has been facing heat from Dalits in Gujarat after four people from the community were brutally assaulted by cow vigilantes last month when they were found skinning a dead cow. The incident had sparked widespread outrage.
"Divisive powers in the country say whatever they want to say but for our party and government Dalit empowerment is a national agenda. The Indian growth story is incomplete without their empowerment," he said.
Rao said there have been social conflicts in India in the "context of Dalits but there has not been any threat to their existence."

"In India the Dalit population has grown whereas in Pakistan it has diminished. What it shows is that Indian social unity is paramount, the overall Indian social unity can promote, protect and empower them," Rao said, adding "without Dalits there is no India".