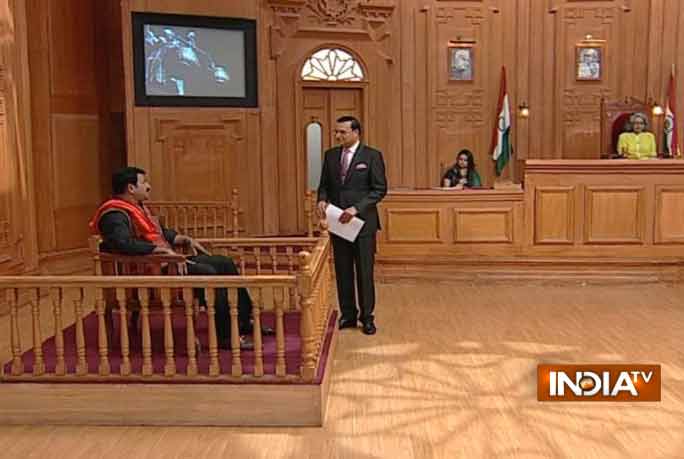 Delhi BJP chief Manoj Tiwari today broke down at the sets of Rajat Sharma's Aap Ki Adalat show, to be telecast on India TV tonight, while referring to a video showing Kashmiri youths bashing up a CRPF jawan.
"When I watched the jawan being hit on his head, without his helmet, I felt as if I should die then and there itself. This nation will never condone such people. These are the jawans who stand on guard, and we sleep peacefully.
"Did those who level charges of excesses against our jawans in Kashmir watch this video? Five or six youths kick, abuse and beat up a jawan, and look at the patience of our jawan, he bears all these, because he has been ordered to punish terrorists only. These are the jawans who rescue the people of Kashmir in time of floods.
"Not all the people in Kashmir, only a handful of them, as the chief minister Mehbooba Mufti said, only 5 pc of the people are creating mischief, but Rahul Gandhi and Aam Aadmi Party leaders go to JNU and extend support to these people who shout "Chheen Ke Lengey Azaadi"".
Tiwari said, Congress vice president Rahul Gandhi should at least watch this CRPF jawan video and tender apology for wrongly supporting such pro-Azaadi elements in JNU. "I also salute the students of JNU, who have strived to make their university top in rankings, but they should not support those who defame the university."
Tiwari castigated Delhi chief minister Arvind Kejriwal for alleging tampering of EVMs during elections. 
"I fail to understand how EVMs can make the Congress win in Punjab, Lalu win in Bihar and the BJP win in UP. This denotes mental bankruptcy."
On AAP candidate losing the Rajouri Garden byelection, Tiwari remarked: "We didn't defeat them, their 'karma' (work) made them lose. Let Kejriwal ji come with me to visit the jhuggis or villages of Delhi, where the only thing that people want is potable drinking water and a water connection. But the problem is, he (Kejriwal) has a 56-inch long tongue, and he can say anything."
On Kejriwal's charge that the Centre cancelled the allotment of office to his party, Tiwari replied: "I want that AAP should get more and more offices, but at least they should go and meet the officials who allot offices. What they did was, the bungalow was allotted to a minister and they used it as their office."
On the charge that Kejriwal hosted dinner where the hotel charged Rs 13,000-19,000 per plate, Tiwari said: "For Rs 13,000, we can feed an entire jhuggi basti. Our Yogiji (Adityanath) is offering thali for Rs 5, and here is a CM (Kejriwal) who offers Rs 13,000 worth thali to his workers, and Rs 16,000 to Rs 19,000 worth thali to himself and his ministers. The question is not of thali, but of neeyat (intention)."
Manoj Tiwari in Rajat Sharma's show Aap Ki Adalat will be telecast tonight at 10 pm on India TV. The show will be repeated tomorrow at 10 am and 10 pm.