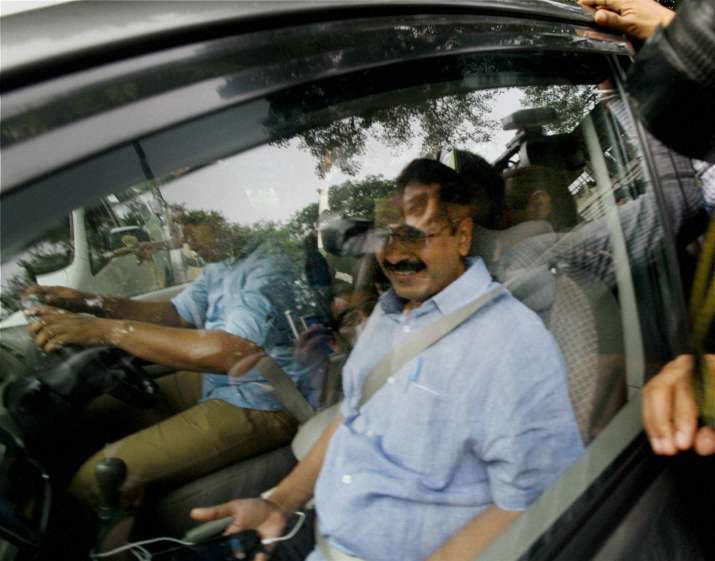 New Delhi: AAP supremo and Delhi Chief Minister Arvind Kejriwal was today granted bail by a Delhi Court in the criminal defamation complaint filed by BJP MP Ramesh Bidhuri.
Metropolitan Magistrate Harvinder Singh granted the relief to Mr. Kejriwal on furnishing of a personal bond of Rs. 10,000 after he appeared before the court.
The court has now fixed the matter for further hearing on August 6, 2016.
Mr. Kejriwal was summoned as accused by the court in February 2016 on a criminal defamation complaint filed against him by Mr. Bidhuri, the South Delhi MP, under section 500 (defamation) of the IPC.
Mr. Bidhuri had alleged that Mr. Kejriwal had defamed him during an interview to a news channel.
He had claimed that during the interview, Mr. Kejriwal had falsely said that criminal cases were pending against Mr. Bidhuri and a Congress leader but the Delhi Police was not taking action against them.
Mr. Bidhuri claimed that no case was pending against him and Mr. Kejriwal had defamed him by giving such a statement.
Both Mr. Kejriwal and complainant Mr. Bidhuri appeared before the court amid tight security in the court premises.
During the hearing, the court inquired from the counsel for both the sides as to whether the summons issued against Mr. Kejriwal in the case were stayed by the Supreme Court on pleas filed by him, BJP leader Subramanian Swamy and Congress vice-president Rahul Gandhi, challenging the constitutional validity of the criminal defamation law.
Advocate Rahul Mehra, the counsel appearing for Mr. Kejriwal, said "the accused (Mr. Kejriwal) had appeared before the court. Kindly grant the bail and proceed with the matter. If there is lack of clarity as to whether the summons are stayed by the apex court, kindly give an appropriate date for framing of the notice after the time period given by the apex court expires."
The politicians had approached the apex court challenging the constitutional validity of penal laws on defamation on the ground that they are "outmoded" and inconsistent with the right to freedom of speech and expression.
The pleas had sought setting aside of sections 499 and 500 (defamation) of the IPC and suggested that there is a need to decriminalise penal provision for offence of defamation.
The apex court had on May 13, 2016 rejected their pleas and upheld the law.
The Supreme Court had given eight weeks time to the petitioners to approach the superior court against magisterial court's summoning order or quashing of the complaint against them, if they wished.
(With PTI inputs)