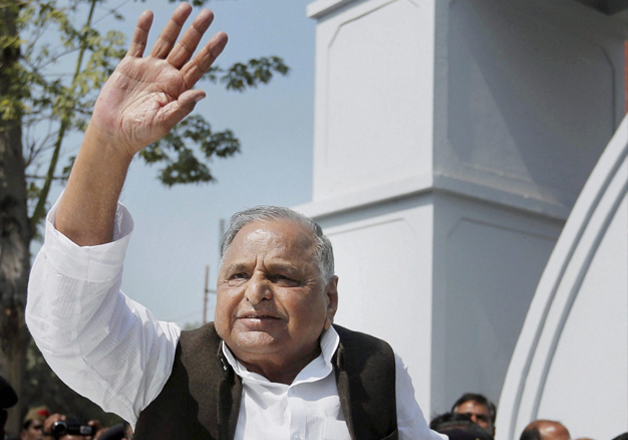 Putting speculations to rest that Shivpal Yadav may launch a new political party once the elections are over, Samajwadi Party patriarch Mulayam Singh Yadav on Sunday made it clear that his younger brother will be a minister in the new Samajwadi government headed by his son Akhilesh Yadav.
Speaking to reporters after exercising his franchise here, Mulayam also rubbished the reports of rift in the party saying 'his son Akhilesh will become Uttar Pradesh Chief Minister again'.
"There is no gap and no one can stop Samajwadi Party from winning more than 300 seats. Akhilesh will be the new Chief Minister and Shivpal will be a minister," he said.
Asked why he was not actively campaigning for his party candidates, he said, "I am campaigning. Other phases are left, I will campaign." 
When asked about his brother Shivpal, who is contesting from Jaswant Nagar in SP stronghold Etawah, Mulayam said, "He will win by a big margin."
He further rejected Akhilesh's veiled attack on uncle Shivpal at a recent campaign rally. 
"That was meant for some local party workers who had harmed the party," Mulayam said.
Mulayam's remark is being seen as an attempt to douse the rumours that Shivpal was planning to float a party after the results are announced on March 11. 
Last week, the CM had during a rally here asked party workers to teach a lesson to those – clearly referring to his uncle, trying to sabotage the party. 
Reacting to Mulayam's statement that Akhilesh will be CM again and he a member of his government, Shivpal said, "If Netaji has said so, I will accept."
Polling for 69 seats in the crucial third phase of Uttar Pradesh assembly polls concluded on Sunday evening with a voting figure of 61.16 per cent. In the previous two phases, the voter turnout was 64.22 per cent and 65.5 per cent.
The remaining four phases will be held on 23 and 27 February and March 4 and 8. The results will be out on March 11.