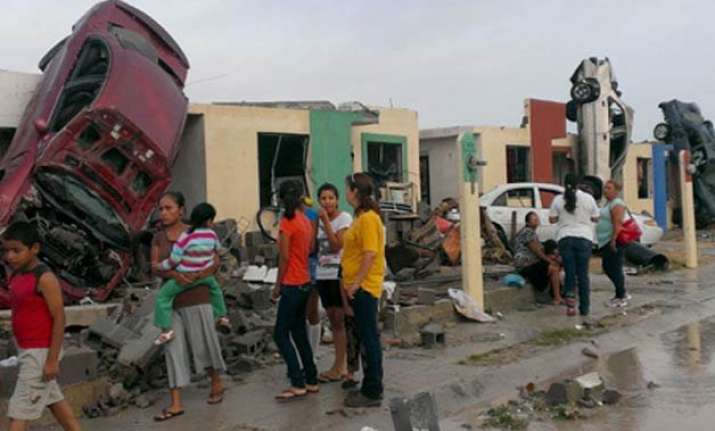 Mexico City: At least 13 people died after a violent tornado hit northern Mexico border city of Ciudad Acuna, said a government official.
"Up to now 13 people have been officially confirmed dead," said Luis Felipe Puente on Monday, head of the Secretariat of the Interior's ( Segob) National Coordination for Civil Protection, via his personal Twitter account, Xinhua reported.
In an interview with local news channel Televisa, Puente said a total of ten adults and three minors had lost their lives. Also 88 people were seriously injured, 229 with cuts and bruises and a baby was reported as missing.
The tornado hit Ciudad Acuna, a Mexico border city in the state of Coahuila between 05.30 and 06.10 on Monday morning.
Ciudad Acuna's mayor Evaristo Lenin Perez said a preliminary evaluation of the damage showed that 300 houses had been destroyed and approximately 1,500 houses were seriously affected.
The fierce winds swept up vehicles, pulled off roofs, uprooted electricity masts and trees and also damaged other materials.
Sergio Almazan, a geologist, said the tornado was marked category four on the EF (Enhanced Fujita) scale with winds of up to 320 km per hour.
Mexican President Enrique Pena Nieto said: "Temporary shelters have been set up for those whose houses are severely damaged," in a Twitter post.
The president also said the Emergency Management Office is working with Coahuila's government to help the affected families.
Staff from Coahuila's state Civil Protection unit and soldiers from the Mexican Army are helping the affected population and assessing the damage.
Tornadoes are formed by a collision between two air masses, one warm and wet from the seas and the other cold and dry from the poles. This causes a reaction in the form of convection which leads to powerful spinning storms.