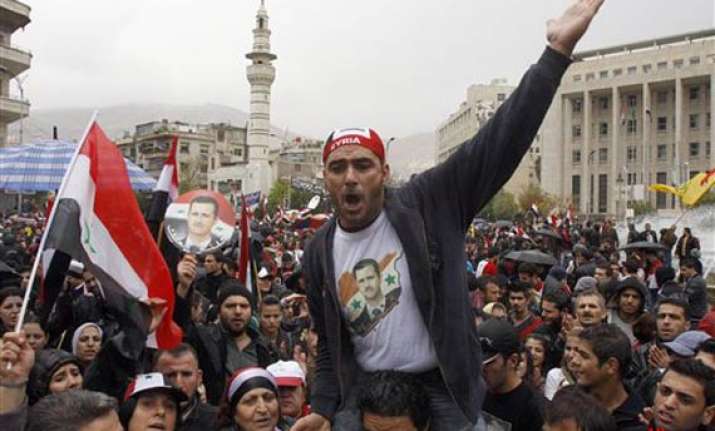 Damascus, Nov 18 : Rebel troops hit offices of Syria's ruling party on thursday, a day after a daring raid on an intelligence base that prompted Russia to warn that its longtime ally risks "full-scale civil war."

The rocket-propelled grenade attack in northwestern Idlib province, near Turkey, came as security forces killed eight people, including two children, despite an Arab League ultimatum that Syria halt the bloodshed or risk sanctions. 

"A group of dissident troops attacked regime youth offices, where security agents were meeting, with rocket-propelled grenades and clashes broke out," said the Britain-based Syrian Observatory for Human Rights.

 Yesterday, fighters of the Free Syrian Army, a rebel group formed by army deserters that has inflicted mounting losses on the regular army in recent months, raided an air force intelligence base in Harasta, outside the capital.

 In Moscow, Foreign Minister Sergei Lavrov said the global community should call on all sides in Syria to stop violence, including the opposition.

"Today, by the way, Euro News—our common TV channel with the European Union—showed footage where the newly created Free Syrian Army attacked ... official buildings," Lavrov said.

"Of course, if the opposition is going to use such methods it will lead... to full-scale civil war," he said.  Lavrov was speaking after talks with EU foreign policy chief Catherine Ashton, who said "it's time for President (Bashar al-) Assad to stand down."

Ashton also invited Arab League chief Nabil al-Arabi to meet with EU foreign ministers in the near future to discuss "ways to pile pressure on Syria's regime," an EU official said in Brussels.