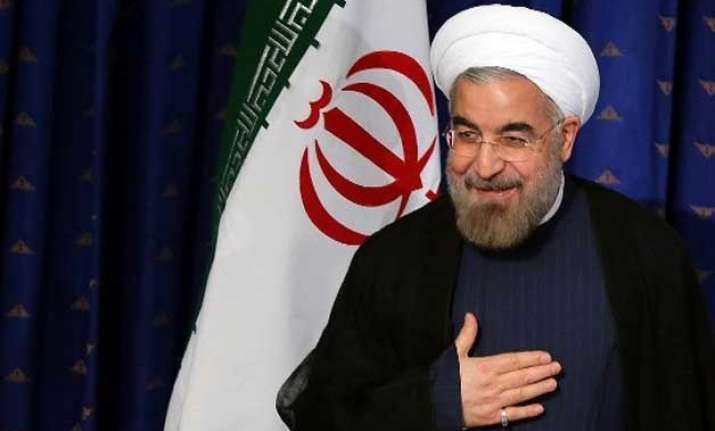 Tehran: The outcome of a potential nuclear deal between Iran and the world powers over Tehran's nuclear issue should be removal of "oppressive and illegal sanctions" against the country, Iran's President Hassan Rouhani said on Wednesday.
"The other party in (ongoing) negotiations should know that the talks should end and the negotiations should result in the removal of all the oppressive and illegal sanctions against the country," Xinhua news agency quoted Rouhani as telling a crowd in the religious city of Qom, south of capital Tehran.
"Sanctions go counter to human rights," therefore, those who have imposed sanctions against Iran are more "isolated" today, he said.
Iran would never accept any "imposition and maintenance of sanctions" in the negotiation with the P5Ư group, namely Britain, China, France, Russia, the US plus Germany, Rouhani said.
"We will continue the talks based on reasoning and logic," he said. "The negotiating party should better know that Iran will never slacken over continuing its scientific progress."
Rouhani's words were an allusion to his earlier remarks that the West aimed to hinder scientific progress of Iran's nuclear programme.
Western powers have imposed rounds of diverse sanctions on Iran, accusing Tehran of having been developing atomic weapons under the cover of civilian nuclear plan. Iran rejected the allegations as baseless, and insisted that its nuclear programme was solely peaceful.
Representatives from Iran and the P5Ư group concluded their latest round of talks in Geneva Monday.
It has been over a year since Iran and the world powers agreed to come back to the negotiating table in 2013. However, wide differences have prevented the sides from reaching a final deal.
The negotiators agreed in November 2014 to extend the deadline for seven more months, aiming to reach a political framework deal by the end of March.