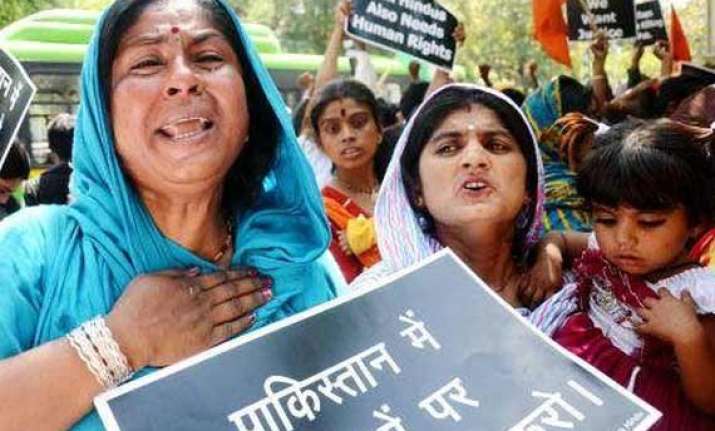 Lahore: A leading Hindu organisation in Pakistan today passed a resolution demanding the government and all political parties to bring a constitutional amendment allowing non-Muslims to cast dual vote to elect their representative of national and provincial assemblies.
They also demanded increase in the number of reserved seats for Hindu population in all government jobs. The Pakistan Hindu Council, during its general body meeting, passed the resolution unanimously.
"We strongly demand from the governments of Pakistan, Sindh to approve the 5 per cent quota in all government jobs ...which was already announced by the previous PPP government but it could not be implemented," said Deepak Kumar Bhagchandani, General Secretary of Pakistan Hindu Council.
He said there must be representation of Pakistan Hindu Council in the recently-announced Committee of Minorities Issues by the chief minister of Sindh.
They also demanded that the head of Evacuee Trust Property Board (ETPB) should be appointed from the Hindu community.
"Besides, nomination of any two reputed Hindu persons as board members of the trust from each province of Pakistan.
Karachi Hindu Gymkhana to be handed over to local Hindu community through Pakistan Hindu Council on urgent bases," they demanded.
The participants also asked the federal government and provincial governments to take immediate actions for the protection of minorities.
They also requested Vankwani to present the Charter of Demand to Prime Minister Nawaz Sharif at his earliest so that grievances of Hindus across the country, particularly in Sindh, could be addressed.