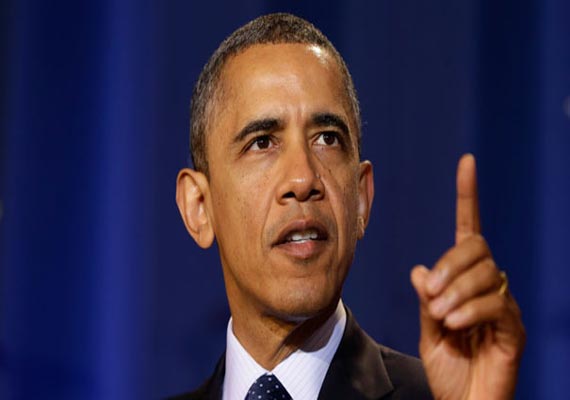 Washington, July 23: US President Barack Obama's approval rating has dipped to 47.9 percent for the second consecutive quarter, according to a Gallup poll.
The figure is down from 49.7 percent in the first quarter of the president's second term, Xinhua reported.
Obama's 18th quarter approval rating ranks among neither the best nor the worst for post-World War II presidents who served that long, and mirrors the 18th quarter averages for former Presidents Harry Truman - 48.7 percent - and George W. Bush - 47.3 percent, Gallup said.
Obama's best quarterly average to date was during his first quarter in office, when he rode into the White House on a "hope and change" mantra, averaging 63 percent approval.
His worst was 41 percent during his 11th quarter, at a time when he and Congress engaged in contentious negotiations to raise the federal debt limit, after which the US saw a credit rating downgrade and the country's stock market took a nose dive, Gallup said.
Obama began his 18th quarter enjoying a modest rally after the Boston Marathon terrorist attacks, which reflected historical patterns of bumps in presidential approval ratings after national security events, it said.
Historically, the trend has been for presidents' approval ratings to decline in their 19th quarters in office.
Five of the last seven presidents who served a 19th quarter saw at least some decline in their approval ratings, including a steep 12-percentage-point drop for Nixon as his involvement in the Watergate scandal became clearer.
The exceptions were former presidents Ronald Reagan and Bill Clinton, both of whom presided over robust economies at that point in their presidencies.
Both Bush and Truman certainly had significant challenges in their second terms, including protracted US military engagements that began on their watches, and economies that were heading into recession.
Obama has ended US involvement in Iraq and plans to end US engagement in Afghanistan next year.
And the economy, though still sluggish, has consistently grown since the 2008-2009 recession ended, Gallup noted.
Thus Obama appears to be less vulnerable to a steep decline in his popularity than Bush or Truman, although he will face ongoing issues including expanding federal debt and the need to raise the federal debt limit once again this year.
Next year, many of the major provisions of Obama's signature Affordable Care Act are scheduled to kick in, and how successfully those are implemented will clearly have an impact on how Americans view the president.
Still, given the historical trends, it would not be unexpected for Obama's approval rating to decline further during his next quarter in office.
However, his ability to respond to the challenges he faces will determine whether his approval ratings continue to decline or improve in his final years as president, Gallup said.