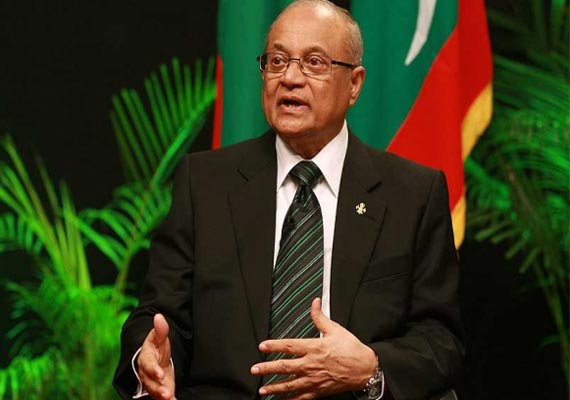 Male: A second round run off to elect a new president for the Maldives was in doubt, as just hours after results were announced, a key candidate said he was not ready for a revote Sunday, Xinhua reported.
Abudulla Yameen, former president Abdul Gayoom's half-brother and presidential candidate of the Progress Party of Maldives (PPM), who grabbed 30 percent of the first round of voting Saturday, told reporters that he had little confidence in the polling being fair.
Yameen, who was to face former president Mohammad Nasheed who won the first round of polling with 46 percent in a run-off, insisted that he needed at least 48 hours more to iron out issues in the all-important voters list.
"No elections are going to happen tomorrow (Sunday). The simple reason being that the Elections Commission is not prepared. The Elections Commission does not have a list that has been signed by the candidates, what they have is a fresh list and this has to be verified and signed for this we need at least 48 hours," he said.
However, Maldives Elections Commission did not officially called off the Sunday voting even a few hours before voting begins.
The Supreme Court earlier in the day gave permission for outgoing President Waheed to remain in his post until a new president is elected.
Political wrangling over the electoral list has already derailed a previous election Oct 19, which the police blocked at the last minute because the lists were not signed by Yameen and fellow candidate tycoon Gasim Ibrahim.
Gasim who came in third in the latest round of polls with just 24 percent has agreed to back Yameen in the run-off, the latter noted.
He insisted that with the combined power of Gasim and PPM he could beat off a strong challenge from Nasheed.
The first round of poling Sep 7 that also saw Nasheed emerge as winner was annulled by the Supreme Court after Gasim alleged large scale vote rigging.