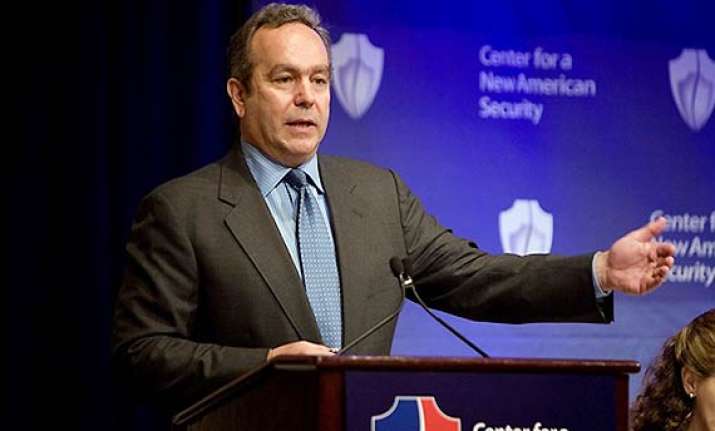 Washington, Dec 16: Ahead of the first of its kind dialogue involving India, Japan and the US, a top American diplomat has said the trilateral talks make good strategic sense, but the idea that they are aimed at China's containment is "preposterous".

The trilateral dialogue is slated to be held here on Monday during which top diplomats from India, Japan and the US are scheduled to discuss several key regional and global issues, including economic and military matters.

"There are a number of issues that we want to discuss: larger and strategic development in Asia, trends, economic, military, strategic," Assistant Secretary of State for East Asian and Pacific Affairs Kurt Campbell told PTI.  But there are a couple of specific issues that he said will gain substantial attention during the day-long trilateral meeting.

"First it is obviously in the interest of all three countries to keep in close touch with respect to developments of Myanmar. It's important to all three countries," he said. 

"We believe that there are new operational concepts that link the Indian Ocean with the Pacific Ocean, we want to talk about the manifestations of that, both in terms of maritime security and other aspects of commerce and security interactions and we would talk about developments among all the key countries in the Asia Pacific region," Campbell said. 

"But our talks wouldn't end there. There would also be talks on global issues. I am very excited about these developments and I think they have the potential to advance trust and understanding among all three capitals," he said, while making it clear that the idea that the dialogue is aimed at containment of China "is simply preposterous on its face."

Campbell said the future prospects of India-US-Japan dialogue depends on progress of Monday's meeting. 

"Well, it has taken us some time to set up this meeting.  I think, we all will see how this one goes. I think, we will make our assessment after that. We certainly would be open to more frequent discussions, but all parties would have to be comfortable with that. And I think, what we are trying to do is to take step at a time and just see how this first set of interactions goes," he said.

Responding to questions about apprehension in China on India, Japan and the US coming together and having such a dialogue, Campbell strongly argued that this is not against Beijing.

"Let me say that one of the things that we try to make clear in all of the strategic interactions that it is in the interest of every country in Asia to improve their relationship with China. And that is a foreign policy objective of the foremost importance. Now countries also want good relationship with the United States as well," Campbell said.

"I think, they believe that the relationship with the United States actually enables them to have a strong relationship with China. So we are sending an unambiguous signal that not only do we want to work towards a strong relationship towards China but we expect that's the case, too, in the region," he said.

So the idea of containment "is simply preposterous on its face," Campbell said, adding "we are in active consultations with Chinese friends on a number of smaller meetings that include them."

The top American diplomat said the United States has long supported India's desire to play a larger role in the Asia Pacific region. "So the impetus of the Look East strategy on the part of India is something that we warmly endorse and support," he said.