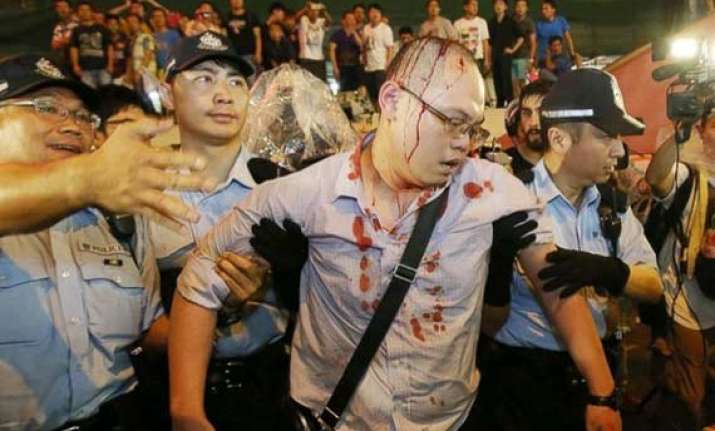 Hong Kong: Several hundred opponents of the Hong Kong pro-democracy movement Monday confronted protestors and tried to topple barricades resulting in scuffles between the two sides.
Police made several arrests.
Around 500 pro-Beijing citizens began to knock down the barricades on one of the streets in the Admiralty district where most of the protestors have been sitting.
Dozens of student demonstrators tried to hold back the opponents, with the scuffles escalating into a confrontation.
Several opponents of the protests, who, according to the students, belong to Beijing pro-government groups and came with their faces covered with masks, were arrested.
A pro-Beijing group, known as the New Territories Association of Societies, an area adjacent to the border of Hong Kong and China, lashed out at the students.
"Hong Kongers hate you all," they shouted.
At the same time, several trucks with cranes began to remove the barricades and the tents of the protestors.
Several taxi drivers tried to run over the barriers, but were unsuccessful.
The incidents occurred on the 16th consecutive day of the protests in the city, led mostly by students, which is aimed at forcing authorities to allow universal suffrage in municipal elections in 2017 to decide the next head of the Hong Kong government.
Police in the territory Monday started an operation to remove barricades set up by the pro-democracy protestors in some areas in order to alleviate the flow of traffic.
According to a police statement, the operation to remove the barricades began in the districts of Admiralty and Mong Kok in order to relieve traffic congestion.
The police said their operations were not an attempt to clear the protest sites.
In the area of Admiralty, where people have gathered to protest around government buildings since Sep 28, police cleared two routes to facilitate access for public employees driving to work.
Last Monday, the protest organisers and the government agreed that the 3,000 administrative employees could walk to their offices, whose access points had been blocked by thousands of protestors during the the initial days of the demonstrations.
Many pro-democracy demonstrators have been coming to the areas now cleared by the police, where the presence of the authorities has been strengthened, while waiting for new developments.
Meanwhile, many streets in downtown Hong Kong and some roads in the districts of Mong Kok and Causeway Bay continue to be occupied by dozens of protestors who spent Sunday night there.
The police action came a day after Hong Kong Chief Executive C.Y. Leung described the movement as being out of control and added that there was almost no chance of the protests changing the Beijing government's decision on electoral reforms.
He also stated that he was confident that the protests would not last much longer.