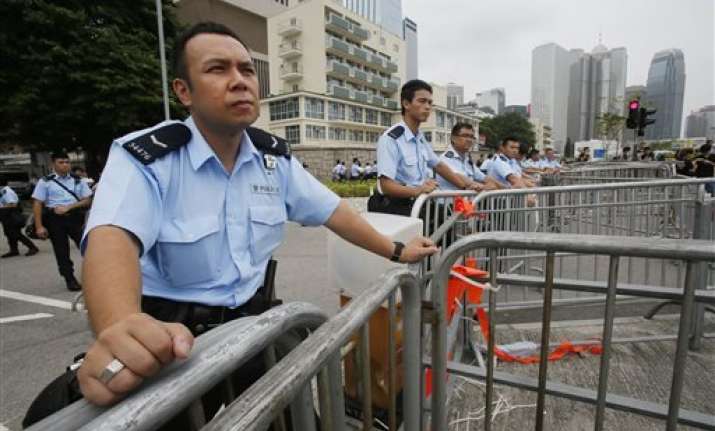 Hong Kong: Hong Kong police warned of serious consequences if pro-democracy protesters try to occupy or surround government buildings, as they have threatened to do if the territory's leader doesn't resign by midnight Thursday.
The warning came as tensions grew with the approach of a deadline set by students protest leaders for the city's Beijing-backed top leader, Leung Chun-ying, to step down—part of broader demonstrations pushing for electoral reforms for the Asian financial center.
Protesters have sought to block the entry to the main government headquarters since Wednesday night in a tense standoff that led to police forming a human cordon inside the compound's gates.
"This action will obstruct officers from carrying out their duties which could lead to serious consequences," Hong Kong police spokesman Steve Hui told reporters. "It will also allow criminals to take advantage of the situation and the public order could be undermined."
The weeklong street protests by thousands of demonstrators pressing for freer elections in Hong Kong are the biggest challenge to Beijing's authority since China took control of the former British colony in 1997.
China's ruling party mouthpiece warned of "chaos" in Hong Kong, and expressed strong support for Leung in his face-off with the pro-democracy protesters.
The People's Daily said in a commentary that the "central government fully trusts Chief Executive Leung Chun-ying and is very satisfied with his work." It added that it firmly supports the Hong Kong police—criticized for using tear gas and pepper spray on the protesters last weekend—"to handle illegal activities in accordance with the law."
Thursday's commentary in the People's Daily is a reflection of the growing concern in Beijing that the protests could spiral out of Leung's control. But the Communist Party is known to send mixed signals at times, and such a public support for Leung could also mean that Beijing is holding him responsible for bringing order quickly and decisively.
The commentary said that the rule of law must be safeguarded "in order to realize the healthy development of democracy and politics in Hong Kong."
"Handling affairs without following laws, Hong Kong society will be in chaos," said the commentary, published Thursday, adding that the rule of law must be safeguarded to ensure "healthy development of democracy and politics in Hong Kong.
The hard-hitting comments came a day after student leaders demanded that Leung resign by midnight Thursday. If he doesn't, they said they would step up their actions, including occupying government buildings, raising the specter of another clash with police. Since Monday, the protests have been peaceful.
"We are not asking C.Y. to come talk to us. We are demanding he resign," said May Tang, a 21-year-old student at Lingnan University, referring to Leung. "It's too late for his government to be accountable to the people so we want a new one."
The protesters' chief complaint is over Beijing's decision in August that all candidates in an inaugural 2017 election for the territory's top post must be approved by a committee of mostly pro-Beijing local elites. They say China is reneging on its promise that the chief executive would be chosen through "universal suffrage."
The number of protesters in front of the Hong Kong government headquarters dwindled Thursday after swelling to tens of thousands the previous day, a holiday when many families and couples visited the protest zone, snapping photos of themselves amid the crowds. Thursday was also a holiday, but fewer people appeared to be camped out in the Admiralty area near the government complex.
Police manned a barricade set up outside the chief executive's office entrance. On the other side, several dozen student-age protesters were camped out, huddled under umbrellas to protect against the sun.
One protester disagreed with the student leaders' threat to occupy government buildings.
"Getting into a confrontation with police doesn't seem peaceful to me," said Wilson Yip, a 22-year-old recent university graduate. "If they try to force themselves inside and confront police, I don't see what kind of point that would make.
It may make fewer people support the protests."